QUICK READS [Series#2]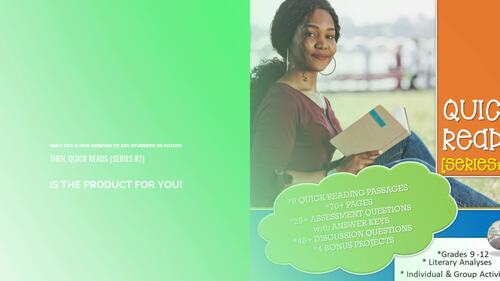 ;
Description
Got a few minutes for bellringers, exit tickets, substitute teacher assignments, or differentiated instruction? This QUICK READS [Series#2] product can be used as whole page reading assignments in itself or a reading assignment with multiple choice OBJECTIVE assignment. Indeed, this 9 PASSAGE, 77 page, 45-item OBJECTIVE QUESTIONS (with Answer Keys), 4 fun-filled projects, 45+ Discussion questions and Black & White Versions of all passages and assignments help students navigate literature. This product can be used for 9th - 12th grade students. Check it out!
1. 9 Very Short, Intense Reading Passages
2. 77 pages
3. 45-item OBJECTIVE QUESTIONS (with Answer Keys)
4. 45+ Discussion questions
5. Suggested Uses Page with fun-filled creative
ideas to make your classroom GREAT!
6. Black & White Versions
7. 4 FUN-FILLED PROJECTS
You may also appreciate:
Writer's Workshop [9 Writing Projects for High Schoolers]
Hey guys, I'm Richard Williams, The Angry Teacher. I've been teaching for 18+ Years , and have amassed quite a bit of knowledge to share. Please consider joining the Angry Teacher family; we'll enjoy having you in the fam!
FIND ME ON THESE SOCIAL MEDIA PLATFORMS:
Please consider checking out the other short story materials and resources in my store.
Also, guys, remember that leaving REVIEWS is a way that TpT gives you credit on products! So let's do it!
Thanks for stopping by!
Teaching Duration
3 Weeks
Report this resource to TPT
Standards
to see state-specific standards (only available in the US).
Cite strong and thorough textual evidence to support analysis of what the text says explicitly as well as inferences drawn from the text.
Determine a theme or central idea of a text and analyze in detail its development over the course of the text, including how it emerges and is shaped and refined by specific details; provide an objective summary of the text.
Analyze how complex characters (e.g., those with multiple or conflicting motivations) develop over the course of a text, interact with other characters, and advance the plot or develop the theme.
Analyze the representation of a subject or a key scene in two different artistic mediums, including what is emphasized or absent in each treatment (e.g., Auden's "Musée des Beaux Arts" and Breughel's Landscape with the Fall of Icarus).
Analyze how an author draws on and transforms source material in a specific work (e.g., how Shakespeare treats a theme or topic from Ovid or the Bible or how a later author draws on a play by Shakespeare).