R Sound Perception Training : Early R Speech Therapy Activities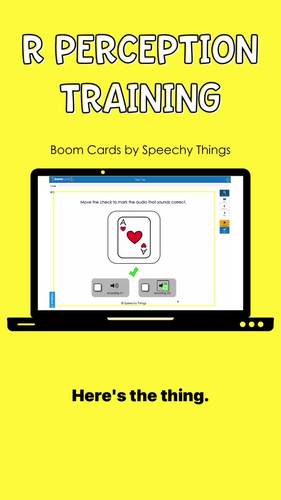 ;
Compatible with Digital Devices
The Teacher-Author has indicated that this resource can be used for device-based learning.
What educators are saying
Love this activity as a first step to /r/ remediation therapy. Helpful to have pictures of modeled words, as well as visual reinforcement, thanks!
My students love using this resource. I love that they can listen to someone besides me to hear the difference between an errored sound and an appropriate sound.
Also included in
Make planning therapy easy with this digital R sound bundle. These resources are all digital, meaning no-prep, perfect for teletherapy, and are easy to just pull up on your iPad even for an in-person session. It contains materials for auditory discrimination, elicitation, achieving vocalic R, drill

Price $37.00

Original Price $41.25

Save $4.25
Description
We need our students to be able to HEAR the difference in a correct and incorrect R sound. The first step is for them to be able to hear it in other people. Use this simple boom card activity to practice this skill! It contains 100 R words with recordings of correct and incorrect (substitutions AND distortions) productions for your students use for perception training practice.


☞ Please Note ☜
This resource is is also in the ! If you already own that bundle, you can download this resource for free!

Be sure to use with the Fast Play feature to ensure the cards are randomized for each 20-card play!
Please look at the for a closer look inside this awesome boom deck!
⇨ ABOUT BOOM CARDS™ ⇦
To use Boom Cards™, you must be connected to the Internet. Boom Cards play on modern browsers (Chrome, Safari, Firefox, and Edge). Apps are available for Android, iPads, iPhones, and Kindle Fires. For security and privacy, adults must have a Boom Learning account to use and assign Boom Cards. You will be able to assign the Boom Cards you are buying with "Fast Pins," (play provides instant feedback for self-grading Boom Cards). Fast Play is always a free way for students to engage with Boom Cards decks. For additional assignment options, you'll need a premium account. If you are new to Boom Learning, you will be offered a free trial of our premium account. Read here for details: http://bit.ly/BoomTrial.


○○○○○○○○○○○○○○○○○○○○○○○○○○○○○○○○○○○○○○○○○○○○○○

SIMILAR RESOURCES
● This resource is included in my Digital R Bundle. As the bundle grows, the price will increase. Once purchased, new additions can be downloaded for free.
● Eliciting R Boom Cards
● Teaching R
● R Tongue Twisters
● R Puzzles (perfect visual and tactile cue for tricky vocalic R kids)

○○○○○○○○○○○○○○○○○○○○○○○○○○○○○○○○○○○○○○○○○○○○○○

CUSTOMER TIPS
○ Push the green star! Follow my store to see new resources up to 50% off!
○ TpT Credits: Review purchased products to get credits toward your next purchase
○ If you have a question or issue, you can email me at lindsey@speechythings.com or leave a Question in my store. It is important to me that you are happy with your purchases!

○○○○○○○○○○○○○○○○○○○○○○○○○○○○○○○○○○○○○○○○○○○○○○

COME SAY HI!
● VIP Emails : Get access to my freebie library, exclusive deals, and therapy tips!
● Instagram : I'm here most often – therapy ideas, Q&A's, and daily life!
● Blog : Find helpful ideas and reviews for your therapy room!

● Youtube ● Pinterest ● Facebook ●

○○○○○○○○○○○○○○○○○○○○○○○○○○○○○○○○○○○○○○○○○○○○○○

This resource is copyrighted by Lindsey Hockel, MS, CCC-SLP, owner of ©Speechy Things™ . Purchase of this item is intended for use by a single customer and is not to be shared with other professionals. If someone is interested in this resource, please direct them to my store. You are, however, welcome and encouraged to send pages home with students as needed. Thank you for your support and understanding!
Report this resource to TPT