READING SKILLS AND STRATEGIES: MEGA BUNDLE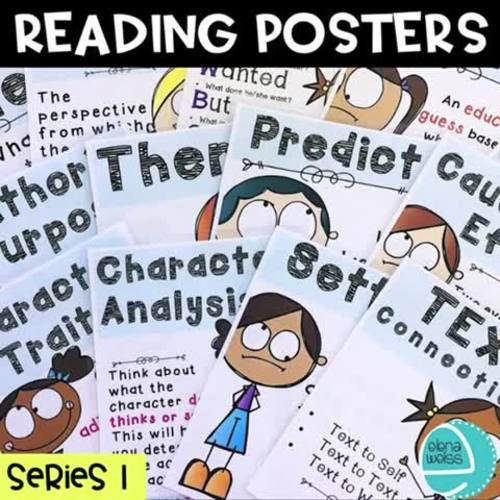 ;
Products in this Bundle (3)
Bonus
BONUS: Reading Skills and Strategies (Series 1) Black and White Posters
Description
YOU WILL GET 3 RESOURCES IN 1 BUNDLE.
♥ Reading skills and Strategies Posters, series 1 reading posters (series 1)
♥ Reading Skills and Strategies Posters, series 2 series 2
♥ Writing About Reading: Graphic Organizers writing about reading (graphic organizers)
♥ BONUS: Series 1 poster in black and white are included ONLY IN THIS MEGA BUNDLE!
The following skills/strategies are addressed in this resource:
•Main Idea
•Setting
•Point of View
•Theme
•Character Traits
•Character Analysis
•Cause and Effect
•Summary (SWBST)
•Author's Purpose (PIE)
•Inference
•Predict
•Visualize
•Text Connections
•Story Elements
•Writing a Short Response (RACE)
The series 1 posters are ideal for a focus wall. They are a great visual cue for your students and will draw attention to the highlighted skill or strategy.
The series 2 posters expand upon the following: Story Elements, Point of View, Text Connections, Author's Purpose, and Summary (Somebody, Wanted, But, So, Then).
The graphic organizers coordinate with the posters and provide a framework to guide your students as they write about reading.
This bundle resource is an excellent enhancement to your existing reading program. It provides consistency as you work with these skills/strategies throughout the year.
My series 1 posters are displayed throughout the entire year and my students will often refer back to them as a refresher. I use the series 2 posters when I introduce the skill/strategy.
See the previews for all the above products for an even better look at what you'll get!
⇨Also includes series 1 posters in black and white. This is a bonus resource, only available with the mega bundle!
See also WRITING PROJECTS
**Did you know?***
You can get TPT credit to use on future purchases.
Go to your My Purchases page.
You'll see a Provide Feedback button.
Every time you give feedback, you earn TPT credits that you can use toward future purchases.
Your feedback is so important and greatly appreciated!
***Look for the green star next to my logo and click to FOLLOW ME!***
THANK YOU & HAPPY TEACHING! - Elena
©elena weiss 2017
All rights reserved by the author.
Permission to copy for classroom use only.
This product is to be used by a single teacher.
Copying for more than one teacher, classroom, department, school or school system is prohibited.
This product may not be displayed or distributed digitally for public view without written permission from the author.
Report this resource to TPT