Rabbit Life Cycle | PBL Biomimicry Design Inspired by Nature STEAM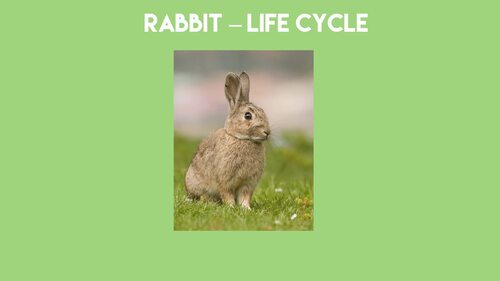 ;
Easel Activity Included
This resource includes a ready-to-use interactive activity students can complete on any device. 
Easel by TPT is free to use!
Learn more
.
Also included in
This bundle contain ideas for engaging project-based learning. These units focus on life-cycle but it also extends the understanding of the different stages. There are lesson plans that will guide you through the process of using biomimicry and steam activities to inspire students to as

Price $20.00

Original Price $30.60

Save $10.60
Description
This project based learning unit focuses on the life cycle of rabbits but it also extends the understanding of the different stages. Rabbits are fluffy with long ears but they are also tremendously interesting. Popular pets and wonderful inspiration for new ideas and innovations! This is a lesson plan that will guide you through the process of using biomimicry and steam activities to inspire students to ask questions, study animals and plants, and use creative thinking to explore ideas.
Looking for something exciting for a Spring, pet or mammal unit?
This resource has been prepared so that your students can use it on digital devices. I have selected suitable slides for you, you need to insert text boxes and you can also add instructions for your students.
Contact me at maliasa@live.com if you have any questions, thanks.
Please click the PREVIEW button above to get an idea of everything included.
This enthralling Rabbit Life Cycle package contains:
This package contains:
1. Cards
2. Can you identify the different stages?
3. Fun facts
4. Rabbit Poem
5. What makes an animal a mammal?
6. Mammal or Non-Mammal - What do you think?
7. Rabbit words - make your own dictionary
8. When is a rabbit a rabbit and not a hare?
9. What do rabbits eat?
10. Ask the rabbit Sparkling Questions
11. Describe rabbit
12. Story writing prompt
13. Excited about jumping!
14. Draw Rabbits
15. Invent a jumping robot or. . .
16. What if you were trapped in a cage with no friends or toys to play with?
17. Use rabbits' ears as inspiration.
18. Reflection - assessment
19. How to use biomimicry in the classroom
Leaving feedback when you purchase a resource earns you points toward FREE TPT purchases. I love that feedback!
Also, Follow Me and be notified when new products are uploaded. New products are always 50% off for the first 72 hours they are posted.
Looking for a resource about butterflies?
Check out Project Based Learning: Caterpillars & Butterflies - STEAM, Biomimicry, NGSS
You may also like Project Based Learning: Insect Bundle - STEAM, Biomimicry, NGSS
Reviews of other Think Dive - Sparking Children's Thinkibility products:
Project based learning: Bats, STEAM, Biomimicry
"This product absolutely the favorite one I have purchased all fall! I love the information that is provided about bats - just enough to intrigue and encourage higher level thinking. There are graphic organizers, worksheets, and subtle suggestions to help young learners perform at their best! And best of all, it stretches their creativity! Thanks for such an amazing resource!"
Project based learning: Mammals, Reptiles & Amphibians - STEAM, Biomimicry, NGSS
"Used this for a Kindergarten STEAM club unit and it was a hit!"
Why am I qualified to write these biomimicry resources? I was a member of BEN - Biomimicry Education Network - and a curator of educational resources at BEN. I am the author of the book Biomimicry with Theo & Tuva: Nature spotting inspires wild ideas. In 2015, I completed a course in Biomimicry: A Sustainable Design Methodology at Minneapolis College of Art and Design. I took part in the Biomimicry Design Challenge in 2021.
Product Format:
• This download is a PDF and is formatted in US Letter size. If you would prefer an alternate sizing, A4 size or spelling (colour vs color etc.), please leave me a note in the 'ask a question section of my store'.
#projectbasedlearning #lifecycle #rabbit #pet #STEAM #STEM #NGSS #biomimicry #sparkingchildrensthinkibility #thinkdive #asajomard #tpt #digitalactivities
Report this resource to TPT
Standards
to see state-specific standards (only available in the US).
Develop a simple sketch, drawing, or physical model to illustrate how the shape of an object helps it function as needed to solve a given problem.
Use materials to design a solution to a human problem by mimicking how plants and/or animals use their external parts to help them survive, grow, and meet their needs. Examples of human problems that can be solved by mimicking plant or animal solutions could include designing clothing or equipment to protect bicyclists by mimicking turtle shells, acorn shells, and animal scales; stabilizing structures by mimicking animal tails and roots on plants; keeping out intruders by mimicking thorns on branches and animal quills; and, detecting intruders by mimicking eyes and ears.
Ask questions, make observations, and gather information about a situation people want to change to define a simple problem that can be solved through the development of a new or improved object or tool.
Define a simple design problem reflecting a need or a want that includes specified criteria for success and constraints on materials, time, or cost.
Generate and compare multiple possible solutions to a problem based on how well each is likely to meet the criteria and constraints of the problem.