Race Car Theme Classroom Decor Bundle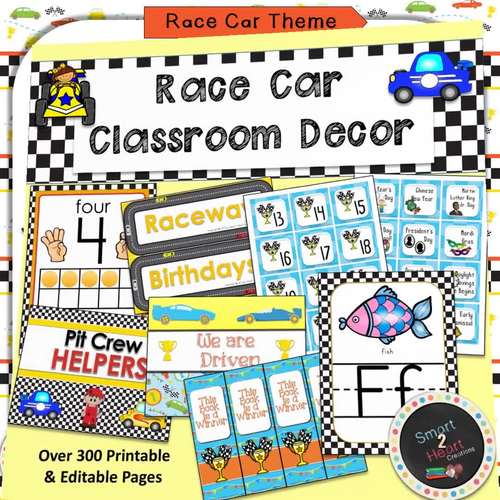 ;
Products in this Bundle (11)
showing 1-5 of 11 products
Description
This Race Car Classroom Theme Decor Set comes with over 300+ pages including many editable options. Perfect for a racing car classroom. This pack includes everything from student name tags to signs, posters, and so much more! It features race cars, racing track and more as part of the racecar theme! Many of the pieces in this set are editable so if you don't find exactly what you need, you can easily create it!
Grab an amazing 300+ pages of printable décor valued at $33 at a super amazing price in this bundle!
Check out the preview above or my video preview HERE to really see what is included in this set!
What You Get:
Printable PDF Files
*Welcome Racers Banner
*Two Race Car themed Bulletin Board Sets with Bulletin Board Header and Border Paper
*Three Birthday Displays (Birthday Banner, Birthday Bulletin Board Headers, and Birthday Poster)
*Two sets of Birthday Month Labels
*Student Birthday Tags
*Two Student Created Birthday Coloring Tags
*Calendar Month Signs
*Calendar Number Cards
*48 Calendar Holiday Cards
*36 Religious/Catholic Feast Calendar Cards
*Yesterday was/Today is/Tomorrow will be Calendar Signs
*Today's Weather Calendar Sign with 12 weather choice tags
*Days of the Week Signs
*Two – 20x15 Printable Themed Calendars
*Today's Centers/Today's Groups Signs
*Center Grouping Student Name Tags
*Center/Grouping Poster (8 ½ x 11 and 20 x 15 size)
*Pit Crew Helpers Job Poster
*24 Premade Job helper Cards and a Blank Make Your Own Job Page
*Teacher Binder Covers (Teacher Binder, Lesson Plans, Calendar/Schedule, Classroom Management, Student Information, Grade Book, Substitute Binder, To Copy, To Laminate, To Grade, and Blank covers to make your own)
*Student Subject Binder Covers (Reading, Language Arts, Writing, Math, Science, Social Studies, Centers, Poetry, Homework Folder, Take Home Folder, Religion, and a Blank Cover to Make Your Own)
*Hall Passes
*Classroom Newsletter Templates (3 Styles included both with and without headings)
*Blank Teacher Calendars (just print, fill in and use)
*Primary Name Plates (3 Styles) – Includes number line, alphabet, and left/right labels
*Upper Elementary Name Plates (6 styles)
*0-35 Small Numbered Circle Labels (perfect for numbering student supplies or student numbers)
*0-12 Medium Numbered Circle Labels (perfect for group numbering)
*Classroom Signs (On Track with Homework, Today's Date Is, Schedule, Homework, Class Rules, Procedures, Objectives, Standards, and blank pages to fill in as you need)
*Directions for my 'On Track with Homework' Homework tracking system/display
*Student Reward Coupons (both pre-made and blank to create your own)
*Four Printable Student Bookmark Incentives
*Word Wall Display and Alphabet Circle Signs
*120 premade word cards (covers the first 100 words in both main sight word lists) and blank word card page to make your own words
*Print Alphabet Posters
*Cursive Alphabet Posters
*Print and Cursive on one sheet Posters
*Color Posters (both with a themed border top and a just a plain color top included)
*Shape Posters
*0-20 Number Posters
*10-100 Count by 10s Posters
*-20 to 200 Number Line
*Printable extra labeling tags
Editable Files
--These files come as powerpoint files. ONLY text fields are editable in these files--
*Morning Work Slides (15 total themed slides included in 3 different styles!)
*Homework Slides (5 slides included) – works great for centers too!
*Editable Birthday Poster (only 8 ½ x 11 size is editable)
*Student Birthday Tags
*Centers Poster (only 8 ½ x 11 size is editable)
*Groups Poster (only 8 ½ x 11 size is editable)
*Student Center/Group Name Tags for easy grouping
*Classroom Helper Job Card
*Classroom Helper Student Name Tag
*Six Binder Covers
*Binder Spine Labels
*Classroom Newsletters (3 Versions both with and without pre-programmed headings)
*Two Teacher Calendar Pages (Just type in dates and information)
*Primary Student Name Plates (3 styles)
*Upper Elementary Student Name Plates (6 styles)
*Five Classroom Sign Templates
*Reward Coupon Page
*Banner File (Matches the Welcome Banner)
*Word Wall Cards (Full color and printer friendly version)
*Seventeen extra labeling pages (circles, squares and rectangles of all different sizes included!)
Special Poster Sized Printing Files and Directions
-due to size these posters are NOT editable-
*Birthday Poster
*Calendar (all calendar date and holiday tags fit on this poster calendar)
*Centers Poster
*Groups Poster
The files in this set come as a ZIP files. All files are either PDFs or Powerpoint Files. Please make sure you have the correct program to use these files before purchasing.
*************************************************
Some of these sets can also be purchased individually
Race Car Center Grouping Cards and Chart
Race Car Classroom Job Helper Display
EDITABLE Race Car Morning Work & HW Slides
Race Car Binder Covers and Classroom Organization Pack
Race Car Welcome Banner & Bulletin Boards
Race Car Word Wall and Word Cards Set
*************************************************
Looking for some Matching Pirate Items:
Note: These items are NOT included in this Decor Set and must be purchased separately.
*************************************************
Looking for just alphabet, color or number posters? Check out my Everyday Posters set!
--A version of these posters is included in this full décor set--
Everyday Print Alphabet Posters
Everyday Cursive Alphabet Posters
*****************************************
I have MANY more classroom décor theme sets planned, so make sure to follow my store to save on new release!
Follow My Store to get notified of all new releases, Facebook, and Blog to keep up on new releases
*****************************************
I would love for you to leave feedback on this item if you purchase! If you leave feedback you earn TPT credits to use on future purchases!!
Report this resource to TPT