Rainbow Portable Word Wall - 220 Word Cards, Letter Headers, Borders, & Banners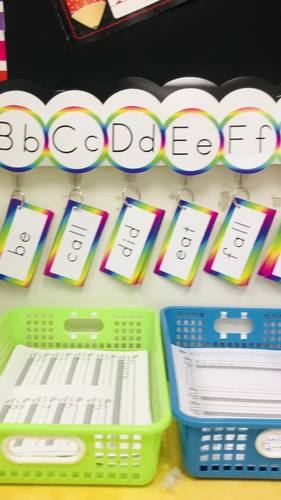 ;
Also included in
This bundle includes the two different Word Wall Styles available in my store, and I actually use BOTH in my kindergarten classroom to meet the needs of ALL of my little learners! These word walls will help you create the perfect writing center in your kindergarten or first grade classroom. A TO Z

Price $14.40

Original Price $20.00

Save $5.60

This bundle includes all of my must-haves for teaching writing in kindergarten. The resources can be used in the classroom, for distance learning, or for homeschooling. If you are beginning the year remotely, these resources can be combined into binders or packets to be sent home. While digital r

Price $88.00

Original Price $137.50

Save $49.50

With more and more families homeschooling, I wanted to create a bundle of resources to support parents who make the decision to homeschool their kindergartener.With 17 years of experience teaching kindergarten, I have had great success using these resources in the classroom and with my own children

Price $127.20

Original Price $183.00

Save $55.80
Description
Have your tried a Portable Word Wall in your Kindergarten, first grade, or second grade classroom? I made the switch last school year, and I've never looked back. This is an interactive word wall that actually gets used! Your students will love it! This bundle includes all you need to create your portable word wall. (You can always set it up the traditional way on a bulletin board as well!) Snag it at INTRO PRICING for a limited time!
Here's what's included in this A to Z Word Wall BUNDLE:
•220 Dolch Word Cards (black text with rainbow/ neon border)
•Bonus words to go under the Qq, Xx, and Zz headers (My students were always asking why those letters didn't have any words under the headers! I decided to include some bonus words you can add to the Dolch list if you wish to display words under these letter headers.)
•Word Wall & Writing Center Banners in Two Sizes
•Prints 6 words per sheet.
•Simply print, laminate, and cut.
•For a portable word wall: Organize words alphabetically, hole punch, place onto binder rings, and display under letter header circles
•You may also set the words up on a bulletin board for a traditional A to Z word wall.
For more tips on setting up your word wall, visit my website www.kindergartenkorner.com and search "word wall"!
Upon request, I have created a similar Black & White Word Wall. Either leave as black and white or print onto your favorite color paper to match your classroom decor.
You might also like my WORD FAMILY WORD WALL designed exclusively for emerging readers in Kindergarten! I actually use both types of words walls in my kindergarten classroom. The A to Z wall is perfect for my students who are reading above grade level, while the Word Family Wall is just right for my on-level and approaching-level students.
Report this resource to TPT