Rainforest Deforestation Escape Room Game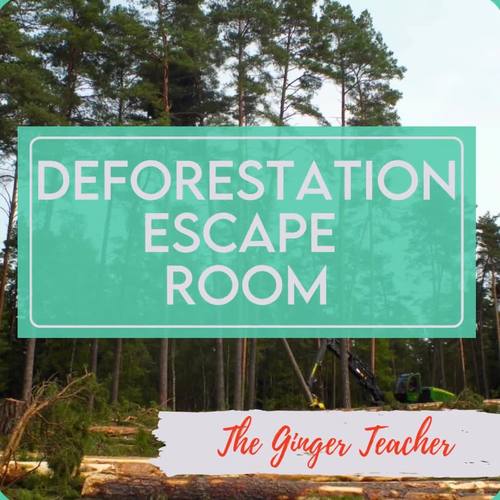 ;
What educators are saying
My students had so much fun learning about deforestation with the escape room activities, They were very engaged.
I did this activity with my kids and another family. The students happened to be all boys and they really liked it! It took them about an hour working in pairs of 2. Very fun!
Description
Try this escape room style game with your students today! This is a fun game that is perfect for teaching children about tropical rainforest destruction. This game focuses on students finding out facts and information and using these to solve puzzles. This helps them to learn about the effects of rainforest destruction and about the rainforest being destroyed
This activity is great for the beginning of a topic to introduce information or at the end to recap.
Students are trying to help an alien understand deforestation and rainforest clearing, they must solve a series of clues, as well as decode different ciphers. There is also a video to start the game off, the video is included along with a YouTube link if you prefer to use that.
This is an interactive game which can be timed. Students try and solve clues and questions before the time is up, you the teacher, can decide how much time your students have to complete the task. I suggest 45 minutes, but it is up to you.
The tasks can be placed around the classroom for students to find for a more active game or distributed by you at their desks. After each task is solved students win a puzzle piece, the final puzzle along with the answers to the tasks lead the students to a phrase which directs to a congratulatory video (also on YouTube but with a copy provided)
Please ask if you have any questions
Report this resource to TPT