Rates and Ratios 6th Grade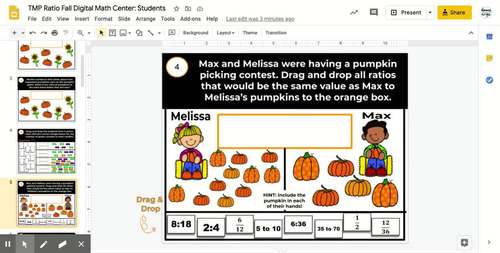 ;
PDF

Google Apps™
Includes Google Apps™
The Teacher-Author indicated this resource includes assets from Google Workspace (e.g. docs, slides, etc.).
What educators are saying
Digital learning has become an increasing need. Thanks for an engaging product to illustrate critical standards. Real world learning means more to my students. Thanks!
Description
This fall-themed 6th grade Rates and Ratios Worksheet activity is digital and is great for practicing unit rates, equivalent ratios and ratio tables. There are 20 slides that have drag and drop, short answer, and fill in the blank.
** The preview video is the student notebook, so you will not be able to see any teacher directions/notes/or the answer key.**
What's Included:
➜ Teacher Directions
➜ Student Digital Activity
➜ 20 fall-themed question slides
➜ Answer Key
NEED MORE ACTIVITIES LIKE THIS?:
⭐ Rates and Ratios Mastery Check Assessments - Distance Learning - Digital Google
FIND ME HERE:
☞
☞
☞
☞
❤️ Make sure to leave a review to receive credits for future purchases - THAT'S FREE CREDITS THAT YOU CAN USE FOR FUTURE TPT PURCHASES!!
❤️ If you have any questions or experience a problem, please send me an or ask on the Q&A page prior to leaving a review. I will respond as soon as possible to all questions!
Report this resource to TPT
Standards
to see state-specific standards (only available in the US).
Understand the concept of a ratio and use ratio language to describe a ratio relationship between two quantities. For example, "The ratio of wings to beaks in the bird house at the zoo was 2:1, because for every 2 wings there was 1 beak." "For every vote candidate A received, candidate C received nearly three votes."
Understand the concept of a unit rate 𝘢/𝘣 associated with a ratio 𝘢:𝘣 with 𝘣 ≠ 0, and use rate language in the context of a ratio relationship. For example, "This recipe has a ratio of 3 cups of flour to 4 cups of sugar, so there is 3/4 cup of flour for each cup of sugar." "We paid $75 for 15 hamburgers, which is a rate of $5 per hamburger."
Use ratio and rate reasoning to solve real-world and mathematical problems, e.g., by reasoning about tables of equivalent ratios, tape diagrams, double number line diagrams, or equations.
Make tables of equivalent ratios relating quantities with whole-number measurements, find missing values in the tables, and plot the pairs of values on the coordinate plane. Use tables to compare ratios.
Solve unit rate problems including those involving unit pricing and constant speed. For example, if it took 7 hours to mow 4 lawns, then at that rate, how many lawns could be mowed in 35 hours? At what rate were lawns being mowed?