Read Across America Activities 8 STEM Challenges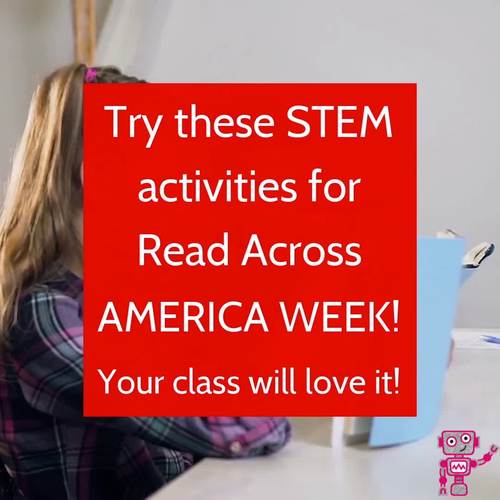 ;
PDF

Google Apps™

Microsoft OneDrive
Digital & Printable - 60 pg PDF + 35 pg Google Slides Digital. Seesaw, Google, Microsoft
Includes Google Apps™
The Teacher-Author indicated this resource includes assets from Google Workspace (e.g. docs, slides, etc.).
What educators are saying
Great resource to use as a STE(A)M center in the library when students are unable to check-out or finished early. Thank you
Oh my gosh!!! We loved this!! The kids keep asking if we can do it again. I loved watching their minds "explode with possibilities" while doing these activities.
Also included in
Looking to use STEM Challenges in your elementary classroom? These hands-on simple STEM challenges are low-prep and use common classroom materials. These STEM activities are both digital and printable! There are STEM challenges and activities for the entire year for you to use - 48 challenges! This

Price $110.00

Original Price $170.25

Save $60.25

Looking for Read Across America Makerspace Activities? This bundle includes coding, robotics, STEM activities, and decor. Your students will be engaged all week long as you celebrate with these Read Across America-themed activities! Use one activity each day or create stations. Click on the preview

Price $18.50

Original Price $36.90

Save $18.40
Description
Looking for a fun way to celebrate Read Across America? This 60 page resource has 8 themed hands-on activities. My students LOVE these activities each year. Use these as stations or try one each day!
Fun themes for Read Across America or Dr. Seuss' Birthday or all year long!
8 Silly Themed STEM Challenges create for Read Across America Week!
Silly STEM Challenge 1: Use pattern blocks to create fish
Silly STEM Challenge 2: Create a hat with cups
Silly STEM Challenge 3: Create silly things with your materials
Silly STEM Challenge 4: Balance a cup, ball and book
Silly STEM Challenge 5: Build a tree and balance pom poms on it
Silly STEM Challenge 6: Use blocks to build a place you hope to visit
Silly STEM Challenge 7: How many rhyming words can you create?
Silly STEM Challenge 8: Use math to build a photo with Lego bricks
These activities incorporate math skills, patterns, rhyming words, building, problem-solving, teamwork. These can be great for stations, whole class, print or digital
Save $20 with this bundle & receive all 8 STEM activities! This bundle is valued at $30.
Assign as stations and let students rotate or provide each activity per day/week
Assign digital versions to save paper
I teach 360 students each week in grades K through 4th, so I created these activities to be able to easily set up, use reusable materials, and need low copying!
I adjust response sheets and challenges to meet each grade level. I need something quick and easy for me, yet engaging and challenging for my students! I hope your students enjoy these as much as mine do! :)
Digital Version - Google Slides Presentation / works with Microsoft PowerPoint

Save paper or show slides on a Smart Board
Share with students using Google Classroom
Includes task cards, response sheets, timer
Movable pieces on some activities
Ready to type on
Students can type about what they created
SEESAW version

Ready to use & add to your library
Modified versions for K-2
Ready for students to type or record voice responses
Moveable pieces on some activities

5 Variations of a Student Recording Sheet to differentiate between ages
Ready to Print:

Design Process Poster
16 Landmark photo task cards
Pattern sheet
Building sheets

Printable Student Certificates in color & b&w to celebrate students' success & wrap up a fun week!
Ready to Print Stickers - just print on Avery labels. You can give these out as students complete different challenges.
Photos of student-made creations to guide you. You can also show these examples to your students, although every child will create something different and unique, which is okay and encouraged!!
Detailed Teacher directions & Tips
Building bricks, pattern blocks, cups, index cards, blocks, pom poms, cardboard rolls, letters.
Looking for Read Across America Door/Bulletin Board decor? Click here for my DIY kit! Inspired with STEM.
These challenges can be modified and used from Pre-K through elementary. I use them in my classes from K-4! These activities are hands-on and promote creativity. Students will and should create different final products.
Have fun! Let your students be creative during Read Across America Week or any time of the year!! I would love for you to tag me in photos!
Click here to follow me & learn when new products are uploaded. New items are 50% off for the first 24 hours! :D
Join my email newsletter group for freebies, tech tips & more!
Click here to follow me on Instagram
I'd love to hear your feedback :) When you review, you earn TPT credits for free purchases!
As always, please contact me with any questions!
Thank you, Dena
Total Pages
Digital & Printable - 60 pg PDF + 35 pg Google Slides Digital. Seesaw, Google, Microsoft
Answer Key
Does not apply
Teaching Duration
Lifelong tool
Report this resource to TPT
Standards
to see state-specific standards (only available in the US).
Count to 100 by ones and by tens.
Write numbers from 0 to 20. Represent a number of objects with a written numeral 0-20 (with 0 representing a count of no objects).
When counting objects, say the number names in the standard order, pairing each object with one and only one number name and each number name with one and only one object.
Count to 120, starting at any number less than 120. In this range, read and write numerals and represent a number of objects with a written numeral.
Add within 100, including adding a two-digit number and a one-digit number, and adding a two-digit number and a multiple of 10, using concrete models or drawings and strategies based on place value, properties of operations, and/or the relationship between addition and subtraction; relate the strategy to a written method and explain the reasoning used. Understand that in adding two-digit numbers, one adds tens and tens, ones and ones; and sometimes it is necessary to compose a ten.