Read to Self Respond to Reading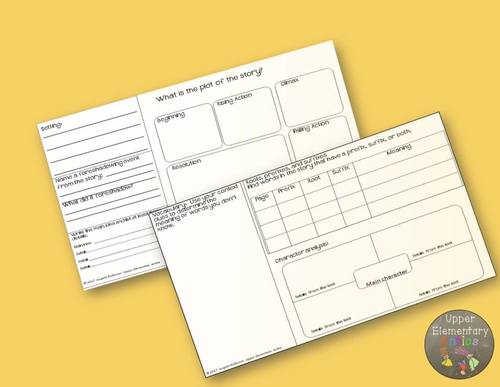 ;
Description
Hold your kids accountable when they read to self during daily 5, guided reading, or any other time. These graphic organizers can be used to analyze any genre , passages from a textbook, and social studies. This can ensure students are reading and thinking about what they read.
When you first introduce the organizers, model filling in with the appropriate information and then you can make a part of your independent reading block. I have used as part of a main lesson, independent practice, and as a way to hold students accountable for their independent reading. They are used to help the students think critically and analytically about their reading.
What is included in this packet:
- Graphic organizers for story elements
- Graphic organizers for character analysis
- Graphic organizers for vocabulary analysis
- Graphic organizers fiction, nonfiction, and social studies
This packet is great for students to analyze their reading, and helps to ensure that independent reading is meaningful.
*****************************************************************************
Customer Tips:
How to get TPT credit to use on future purchases:
• Please go to your My Purchases page (you may need to login). Beside each purchase you'll see a Provide Feedback button. Simply click it and you will be taken to a page where you can give a quick rating and leave a short comment for the product. Each time you give feedback, TPT gives you feedback credits that you use to lower the cost of your future purchases. I value your feedback greatly as it helps me determine which products are most valuable for your classroom so I can create more for you. ☺
Be the first to know about my new discounts, freebies and product launches:
• Look for the green star next to my store logo and click it to become a follower. Voila! You will now receive email updates about this store. ☺
Report this resource to TPT
Standards
to see state-specific standards (only available in the US).
Read closely to determine what the text says explicitly and to make logical inferences from it; cite specific textual evidence when writing or speaking to support conclusions drawn from the text.
Determine central ideas or themes of a text and analyze their development; summarize the key supporting details and ideas.
Analyze how and why individuals, events, and ideas develop and interact over the course of a text.
Interpret words and phrases as they are used in a text, including determining technical, connotative, and figurative meanings, and analyze how specific word choices shape meaning or tone.
Analyze the structure of texts, including how specific sentences, paragraphs, and larger portions of the text (e.g., a section, chapter, scene, or stanza) relate to each other and the whole.