Reader's Workshop | Reading Comprehension, Reading Lessons, Reader's Notebooks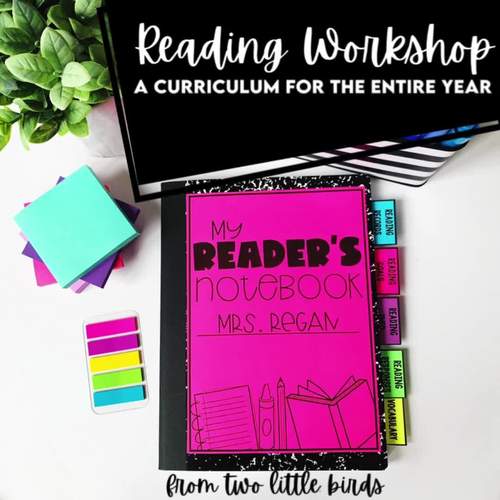 ;
What educators are saying
This is a wonderful resource! I have just started using this resource and my students are already engaged and excited about reading.
This is fool proof and so easy to implement. Just print and go! No more lesson prep- it's all wonderful.
Products in this Bundle (29)
showing 1-5 of 29 products
Bonus
Extra materials for organization
Description
Everything that you need for your reading lessons for the entire year! From lesson plans, to anchor charts, student pages, and more; these ready-to-use reading lessons include all of the materials that you need, for teachers and students.
Reading workshop helps to keep your schedule and expectations consistent for your students. And with a consistent schedule and clear expectations, your reading workshop will be easy to plan and implement! This year-long curriculum will provide you with everything that you need to plan, implement, and continue reading workshop throughout the year.
Your students will love the engaging mini-lessons and learn to use their reader's notebooks as a reference for all of the standards-based skills you are teaching.
This Curriculum Includes:
⭐️ Detailed lesson plans for each day of the week
⭐️Anchor charts with photo examples
⭐️ Student pages for independent practice
⭐️ Exit tickets for each lesson
⭐️ Standards-based lessons and materials
⭐️ Vocabulary words-4 new words per week
⭐️ Extension activities for each book/topic
⭐️ The ENTIRE launching reading workshop unit is also included!
⭐️ Materials for fluency, vocabulary, comprehension, and more!
With this reading workshop curriculum, you will have everything that you need! No need to stress over planning, you have lesson plans with supplies, preparation, focus skills, mini-lessons, independent reading, and share time ALL included.
With your purchase, you will be able to download all updates at no extra cost...the price is only this low at this time, as resources are continually added, the price will go up!!
There are currently 25 weeks of materials and skills included. The curriculum will continue to be updated to include 36 weeks of materials...for the entire year!
Here's what is included:
Visualizing, character, making connections, making predictions, inference, setting, plot, point of view, theme, main idea, context clues, point of view nonfiction, nonfiction text features, comparing stories within the same genre, making connections between visual & oral presentations, using explicit details from informational text, using explicit details in literature, nonfiction text structure, fairy tales, folk tales, fables and myths, visual elements in literature, and drama.
Coming soon:
Poetry and prose
Main idea (nonfiction)
Figurative Language
Author study (books by the same author)
Author study (books by different authors)
Integrating knowledge & ideas in nonfiction
Author's purpose (nonfiction)
Review of concepts
Putting it all together-the last 2 weeks of reading workshop
Take the stress out of planning your reading workshop time and find everything you need all in one place.
This resource provides engaging reading resources for your students through a workshop format:
A Monday through Friday schedule with mini-lessons, independent reading, small groups, conferences, and shared time.
Standards-based reading skills that scaffold throughout the year.
TEACHERS LIKE YOU SAID…
⭐️⭐️⭐️⭐️⭐️ a 4th Grade Teacher says, "I love this resource it has helped me to finally go full-on with Reader's Workshop without feeling overwhelmed by the amount of material. While many resources are provided, I never feel as if I have to use one in order for the other resources to be effective. I can use as many or as little as I need to for that particular week. I also like the fact that it is being continually updated to meet the changing needs in elementary education, and work out any bugs in the curriculum."
⭐️⭐️⭐️⭐️⭐️ Victoria R. says, "An amazing resource! Everything I needed to get reader's workshop going in my classroom. Thank you so much for planning everything out so clearly, it makes my job much easier! LOVE the Reader's Notebook pages!"
⭐️⭐️⭐️⭐️⭐️ Kaitlin F. says, "This resource has been so carefully and thoroughly created. It includes everything needed to run my reading workshop but also allows for flexibility to tailor it to my needs. I appreciate the way that the files were supplied to make it easier to copy exactly what I need without too much searching. My students were able to follow closely as the skills were broken down well."
___________________________________
You may also like…
___________________________________
Copyright © Two Little Birds.
Permission to copy for single classroom use only.
Please purchase additional licenses if you intend to share this product.
You will be updated with new resources as they are added, just check the "My Purchases" tab, look for this resource, and re-download!
Report this resource to TPT