Reading Activities for Albert Marrin's Flesh and Blood So Cheap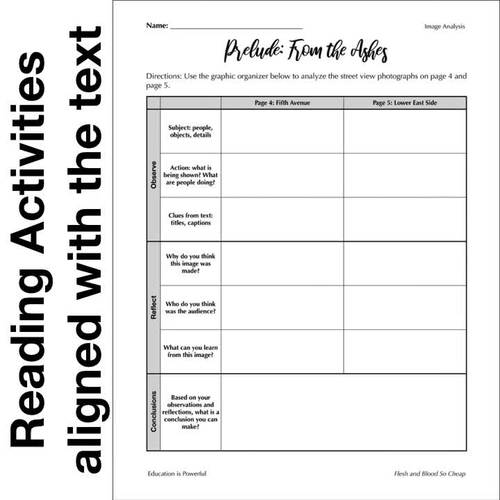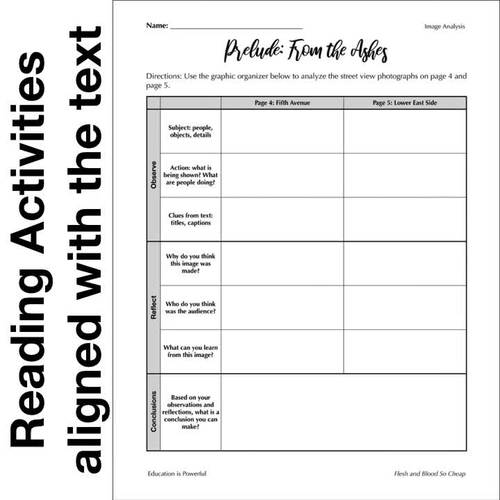 Created By
Education is Powerful
Learning Objective
Students will identify details, purpose, make inferences, and structure while reading.
Product Description

Standards
Albert Marrin's is a great non-fiction text to pair with Margaret Peterson Haddix's novel or any study of workers' rights, the rise of the unions, women's suffrage, and the Triangle Shirtwaist Factory Fire.
✓Chapter Notes Graphic Organizer
✓Discussion Questions for each chapter with Answers Keys
✓18 Reading activities to accompany the chapters
Graphic Organizers
Sketch Notes
Journal Response
Argument Brainstorms
Image and Political Cartoon Analysis
Descriptive Quotes and Details
Cause and Effect
Labeling
Timeline
Varying Viewpoints
5 W's and How
Ethos, Pathos, Logos Annotation and Analysis
✓Answer Suggestions for the Reading Activities
Each chapter has several options for reading activities you can do with your students. You can do them all, assign different tasks to different groups, or pick and choose what you want.
I've included answer suggestions, but many of the graphic organizers could have many different answers; therefore, I have done answer examples/suggestions.
26 pages of reading activities 56 pages total with answer keys and instructions.
★★★★★
This is a great companion for the novel Uprising by Margaret Peterson Haddix.
to see state-specific standards (only available in the US).
Integrate and evaluate content presented in diverse media and formats, including visually and quantitatively, as well as in words.
Determine central ideas or themes of a text and analyze their development; summarize the key supporting details and ideas.
Read closely to determine what the text says explicitly and to make logical inferences from it; cite specific textual evidence when writing or speaking to support conclusions drawn from the text.
Report this Resource to TpT