Reading Calendars Math Worksheets - July 22 to July 23 - Free Updates Every Year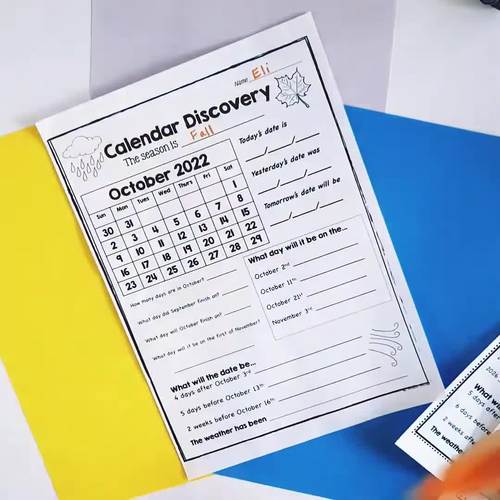 ;
What educators are saying
Used as a warm-up task during our Time unit. Absolutely brilliant as it addresses all typical calendar misconceptions. Thank you!
Probably one of my favorite resources!! Can't believe it keeps updating so I can continue to use it. Very good calendar practice for my kids.
Also included in
Save 30% and buy the bundle!The perfect bundle of engaging and purposeful Calendar Resources for your 2nd and 3rd Grade students. Including monthly printable worksheets, books to make up for individual students and blank calendars templates. Easy for teachers to use, no prep and full instructions ar

Price $8.40

Original Price $11.95

Save $3.55
Description
Make teaching and reading calendars fun with these engaging, easy to use Calendar Worksheets. These calendar skill worksheets allow students to practice and learn how to read a calendar on a monthly basis. Students identify days on the calendar, count forwards and backwards from days and count on to the next month. 
Perfect for math centers or calendar Morning Work! This engaging calendar activity pack includes basic worksheets, challenge worksheets and monthly investigations. Make light work of teaching calendar skills - simply print, copy and use - an easy printable for your classroom!
*** FREE Updates Every Year ***
Would you prefer to download a Calendar Year version? Click here for Calendar Worksheets 2022!
Included in this Calendar Activities pack:
Practice reading calendars with these monthly skill worksheets from July 2022 to July 2023. These worksheets include season practice, identifying today, tomorrow, yesterday, identifying dates from the calendar and days before and after.
Challenge calendar skill worksheets are also included from July 2022 to July 2023. As children master the first set, move them onto the challenge set of worksheets. They are designed to work together with the basic worksheet so you can cater for different needs within your classroom. These worksheets include season practice, identifying today, tomorrow, yesterday, identifying dates from the calendar, filling in missing dates, days before and after and important dates for the month.
The monthly calendar investigation worksheets are not month specific and can be used over and over again as extra extension.
How to prepare these engaging calendar math activities:
Simply photocopy the appropriate worksheet for children to complete each month.
Please note: 
⛄️☀️Updates are completed in June each year in preparation for the coming school year. ⛄️☀️
The pictures on each worksheet are general weather pictures are in accordance with Northern Hemisphere seasons.
COMMON CORE STATE STANDARDS
No links can be found - however, reading a calendar is an everyday skill that children need to learn.
AUSTRALIAN CURRICULUM LINK
ACMMGO41 - Use a calendar to identify the date and determine the number of days in each month.
Read more about my tips for teaching calendars in your classroom by visiting this blogpost.
Buy our Calendar Bundle and SAVE 30%
Containing our Blank Calendar Templates and Monthly Calendar Books.
If this is the perfect fit for your classroom, you will also love:
Fact Family Triangles - Four Operations Bundle
Place Value: Games, Activities and Worksheets
Get free TpT credits for future purchases!
If you like this resource, then I'd love to hear from you! Select "My Purchases", choose ratings and leave feedback and you will receive free credits to be used on your next TpT purchase.
Want 50% off all new releases for the first 24 hours? 
Follow Me so you are the first to know!
Thank you!
Let's Connect
Follow me on Instagram, Facebook and visit my website Mathful Learners for more great tips to use in your classroom.
_____________________________________________
COPYRIGHT ©Alison Hislop of Mathful Learners
Permission for personal use in a single classroom. Please purchase additional licenses for use in multiple classrooms.
Report this resource to TPT