Reading Comprehension Activities | Reading Response | Print and Digital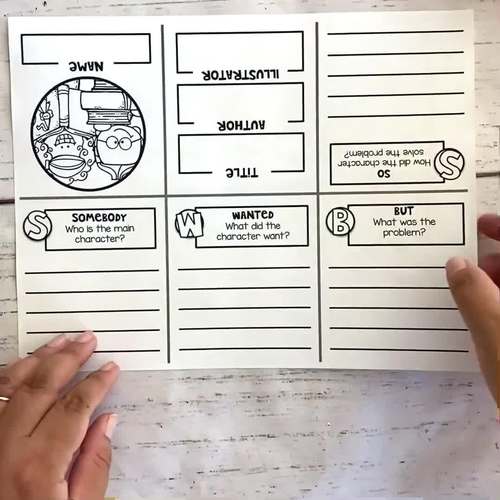 ;
Zip

Google Apps™
17 Books in English & Spanish + Google™ Slides Version
Includes Google Apps™
The Teacher-Author indicated this resource includes assets from Google Workspace (e.g. docs, slides, etc.).
What educators are saying
Grest for keeping on hand to use diring reading groups! It gave students opportunities to write about what they were reading. My students loved how they were mini booklets!
These are so great- I modeled how to use them during small group and let students work on these once they completed books independently. They were perfect- and there are so many options to use!
Also included in
Thank you for purchasing this bundle! It was created for teachers that need resources that include a print and digital version. The print versions are included as PowerPoint files™. The digital copies are saved in Google Slides™ or Google Sheets™.Please note that I will most likely be adding more re

Price $79.99

Original Price $105.50

Save $25.51

This bundle was created by request. You are purchasing a large bundle of resources that include English & Spanish versions. Several of these resources are editable, but some are not. Please make sure to look at each individual item for specific edibility details. Please Note:This bundle will gro

Price $250.00

Original Price $327.19

Save $77.19
Description
Are you looking for meaningful reading comprehension activities that require and are fun for students? This set might be just what you are looking for! These booklets are something I use with my second graders on a weekly basis. The best thing is my students love them!
This resource includes:
17 Printable Booklets
17 Digital versions (Google Slides™)
Spanish printable and digital versions
Use them for:
A whole group activity while reading your story of the week.
Literacy stations for the students to complete on their own.
As an activity after a read aloud.
Recording sheets in your listening station.
Early finisher activities.
Homework
These comprehension activities make it easy to differentiate for all of your students!
Some feedback from amazing teachers like you:
★★★★★ Amanda S.
I used these as a writing and reflecting portion of our guided reading. The kids loved making their little books that they could keep. It added an extra incentive to the lesson and heightened engagement.
★★★★★ Lisa J.
Thank you for this resource. I love how easy it is to print and use with my students. They love writing in "little books" and it makes writing about the stories we read more fun and engaging for them.

★★★★★ Kelsey H.
These comprehension books were a go to activity for me this past year teaching 1st grade. I kept class sets of each book copied and stored at all times. I originally purchased this product for the purpose of challenging my higher readers during/after our DI time. As the school year went on this product became something all of my students were able to use. We used the booklets to respond to our grade level reading, as an independent practice after DI, as an assessment for reading skills and I also left a booklet to be completed each time I had a sub. This product is clear and easy to use, it requires minimal directions which saves me time but also makes it an ideal assignment for when I can't be in the classroom. I look forward to using this product again this school year!

One sweet teacher mailed them to her students when school was closed and this is the feedback she received from a student:
I mailed a couple to each student as a choice versus their online writing - one parent reported their child said, "This is more like it!"
Please note:
The printable booklets are saved as a PDF and are not editable.
The digital versions are saved in Google Slides™. They contain editable fields that your students can type into.
Total Pages
17 Books in English & Spanish + Google™ Slides Version
Report this resource to TPT