Reading Comprehension Graphic Organizers - Bundle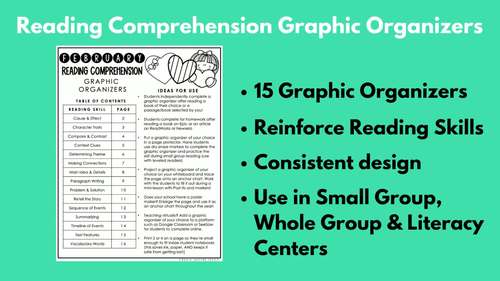 ;
What educators are saying
These organizers are really useful. There is a good variety of organizers and they are easy to understand and flexible for different texts.
Products in this Bundle (7)
showing 1-5 of 7 products
Description
Struggling to help your students understand what they are reading? Reading comprehension graphic organizers can help! These organizers are designed to help students focus on the important details of a text, make connections, and better understand the meaning of the text.
With these graphic organizers, you'll see a noticeable improvement in your student's reading comprehension skills. They'll be able to answer questions about what they've read, and will develop a deeper understanding of the text. Seasonal designs add interest and keep students engaged all year round.
Reading Comprehension Graphic Organizers can be used with any book, passage or text. Includes 15 reading skills in each set! Perfect for use throughout the entire school year.
Reading Comprehension Graphic Organizers
-October
-November
-December
-January
-February
-March
-April
The following months will be added by the first of each month and bundle price will increase as more are added:
-May/June
-August
-September
If you purchase the bundle today, all future additions are FREE for you to download!

Each set of Reading Comprehension Graphic Organizers includes:
Cause & Effect
Character Traits
Compare & Contrast
Context Clues
Determining Theme
Making Connections
Main Idea & Details
Paragraph Writing
Problem & Solution
Retell the Story
Sequence of Events
Summarizing
Timeline of Events
Text Features
Vocabulary Words
Ideas for Using these Graphic Organizers:
ELA Centers
Independent practice
Small reading group/skill groups
Print 2 or 4 to a page and glue into notebooks
Use during mini-lessons! Enlarge reading graphic organizers to poster size, or project on whiteboard and copy onto chart paper for an interactive ELA Anchor Chart
Distance learning? Upload desired graphic organizer to a virtual platform such as Google Classroom or SeeSaw
Use with books, articles, paired text, and more!
Leave with substitutes! Choose any read aloud and pair it with a graphic organizer... or two!
**Low ink, simple print & go pages!
For use with grades 2-5
--------------------------------------------
Here are some other resources you may like!
Meaningful Decor - BIG BUNDLE - Fiction and Nonfiction Reading Banner
Report this resource to TPT