Reading Comprehension Graphic Organizers-Fiction & Nonfiction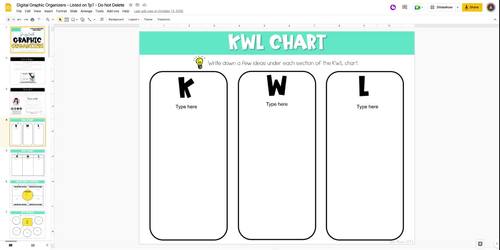 ;
PDF

Google Apps™

Microsoft OneDrive
Includes Google Apps™
The Teacher-Author indicated this resource includes assets from Google Workspace (e.g. docs, slides, etc.).
What educators are saying
This is a great resource for my special education students. My students struggle with writing and these graphic organizers help them sort through their thoughts to write an essay.
I love having these organizers done for me and I can put them into my slides. I can model for everyone. Students in class and online can do the same work at the same time.
Description
Graphic organizers are vital to helping students organize information, problem solve, plan their writing, increase reading comprehension with fiction and nonfiction, compare/contrast ideas, and much more! There are over 40+ organizers for you to use right away.
These graphic organizers are the perfect for helping your students take notes on ANY topic or subject you teach. Use them for math, science, social studies, SEL, language arts, or fiction & nonfiction reading comprehension.
You can print them out and use them in journals or reading notebooks as full or half sheets or share with your class using Google Classroom™, Google Slides™ or via Microsoft OneDrive™. You can even use these with SeeSaw and PicCollage! The easiest part is that you can use them as printable or digital organizers. The possibilities for learning are endless!
✏️ My graphic organizers can be used for guided reading groups, small groups, whole group lessons, centers, stations, close reads, book clubs, or text-based evidence practice!
What's included?
⭐Printable (FULL + HALF SHEET) and Digital Graphic Organizers Include:
KWL Chart
Main Idea/Detail
Key Details
Vocabulary (words to know)
Fact Sheet
Understand It (fill in the blank comprehension questions)
Compare and Contrast
Write About It
Sorting Organizer (categorizing and classifying topics)
Wonderings Chart
Vocabulary Chart
Cause and Effect
Problem/Solution
Story Plot
Story Information (who, what, when, where, why)
Story Sequencing (first, next, then, last or finally)
Story Map (title, characters, problem, solution)
Making Connections
T-Chart
Venn-Diagram
Figurative Language
Making Generalizations
RACE organizer (constructed response)
Character Traits
Visualizing
Making Inferences
Author's Purpose
Narrative Writing organizer
Writing a Narrative
Opinion Writing organizer
Character Analysis
Build a Paragraph organizer
See what teachers are saying about these print and digital graphic organizers:
"I buy products from TPT almost every week. I almost never write reviews but this product is just wonderful. I use the organizers to teach reading comprehension and for writing. This is one of the best products I have ever bought from TPT. Thank you so much!"
⭐⭐⭐⭐⭐Colleen H.
"This resource has saved me so much time! Having digital graphic organizers that can be used with any book or topic is super handy, it can be used time and time again in lots of different contexts. Thank you so much!"
⭐⭐⭐⭐⭐Shannon C.
✅ My graphic organizers can be used for math, science, social studies, language arts, nonfiction+ fiction reading comprehension and more!
The digital version has various types of graphic organizers with ready to type text boxes. Use whichever ones you'd like! If you have a request for a specific graphic organizer, just email me aris@sailingintosecond.com to have me add it to the pack.
Connect with me!
Click the star at the top of this page to be notified when I post new teaching resources!
Like my FACEBOOK
Follow me on INSTAGRAM
Head to my WEBSITE for teacher tips and ideas!
Report this resource to TPT
Standards
to see state-specific standards (only available in the US).
Compare and contrast the most important points and key details presented in two texts on the same topic.
With guidance and support from adults, produce writing in which the development and organization are appropriate to task and purpose.
Recall information from experiences or gather information from print and digital sources; take brief notes on sources and sort evidence into provided categories.
Recall relevant information from experiences or gather relevant information from print and digital sources; take notes and categorize information, and provide a list of sources.