Reading Comprehension Graphic Organizers for Any Book FICTION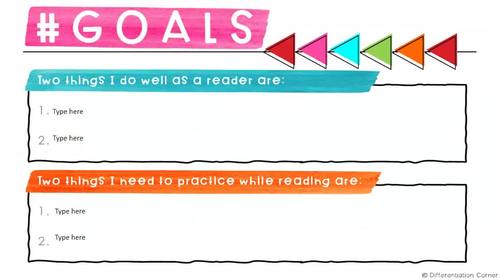 ;
Zip

Google Apps™

Internet Activities
Includes Google Apps™
The Teacher-Author indicated this resource includes assets from Google Workspace (e.g. docs, slides, etc.).
What educators are saying
My students have been using these in class while they are working through their independent chapter books. They love them!
I used this in a variety of ways during learn from home. Students were engaged, and it helped me to have some great tools under my belt.
Description
Make reading comprehension fun and engaging with these printable worksheets, anchor charts and digital slides that can be used with any fiction book, reading passage, or article. Scaffold your students to easily include text evidence and be accountable for their independent reading! Bind the pages for a reading response notebook or journal, print out one sheet at a time, or assign in Google Classroom.
Quickly grab the perfect reading comprehension graphic organizer for your reading lesson plans, reading groups, or literacy centers. This is the perfect way to differentiate to meet every students' needs in a snap.
Academic language is used on each reading comprehension activity to support your students when it comes to standardized testing.
✔️Check out the video preview to see the digital version up close!
Teacher Tips
Notebook Cover
Student directions page (Printable & Digital)
Text Evidence Sentence Starter Anchor Chart (Printable & Digital)
Student GOAL setting page (Printable & Digital)
CHARACTER STUDY (10 Printable & 10 Digital)
SETTING (7 Printable & 7 Digital)
PREDICTING (6 Printable & 6 Digital)
QUESTIONING (5 Printable & 5 Digital)
PROBLEM/SOLUTION (5 Printable & 5 Digital)
PLOT (5 Printable & 5 Digital)
MAIN IDEA (5 Printable & 5 Digital)
VOCABULARY (6 Printable & 6 Digital)
ANALYZING (12 Printable & 12 Digital)
EVALUATING (10 Printable & 10 Digital)
SUMMARIZING (5 Printable & 5 Digital)
4 pages of instructions for using this digital resource in Google Drive
12 page guide for using this resource in other educational apps (Schoology, Notability, Nearpod, Canvas, Edmodo, Blackboard, Pic Collage, Padlet, Evernote and Seesaw).
________________________________________________
⭐️⭐️⭐️⭐️⭐️Melissa W. says "This is an excellent resource to keep my students accountable for their non-fiction reading!  Sometimes I let them choose what they'd like to complete, other times I will assign them one of the slides.  They are Google Classroom ready so it's easy for the kids to complete on devices and it's less paper for me to collect.  Win!"
⭐️⭐️⭐️⭐️⭐️Kathryn D says "These slides are beautiful and really give the students opportunities to show their thinking. I also like how there are multiple slides to assess similar ideas. This keeps the students from getting bored."
⭐️⭐️⭐️⭐️⭐️Cheryl M says "Great for journals!"
Jennifer H says "These are a great resource! I was able to use these in a few different ways.  I assigned just a slide or two at certain times. Then I gave them the entire presentation and they chose which "topic" they wanted to complete.  Thank you!"
⭐️⭐️⭐️⭐️⭐️Marylou Q says "I used this resource when we transitioned to remote learning in the Spring and will continue to use it when we return to in-person learning!  The graphic organizers made it easier for my EL and dually identified EL/SWD students to complete assignments independently.  Thank you!"
________________________________________________
★ Paperless resources save time! No standing at the copy machine!
★ All changes you or students make to the resource are automatically saved!
★ Perfect for Chromebooks, IPads, Tablets, and laptops!
★ It is nearly impossible for students to lose their work!
★ Students are engaged while using my interactive digital resources!
★ No more trying to read students' handwriting!
★ No more packing heavy bags home with papers to check!
________________________________________________
⭐Follow me for new products and sales! All new products are 50% off for the first 48 hours!
________________________________________________
❤️
Answer Key
Does not apply
Report this resource to TPT
Standards
to see state-specific standards (only available in the US).
Ask and answer questions to demonstrate understanding of a text, referring explicitly to the text as the basis for the answers.
Recount stories, including fables, folktales, and myths from diverse cultures; determine the central message, lesson, or moral and explain how it is conveyed through key details in the text.
Describe characters in a story (e.g., their traits, motivations, or feelings) and explain how their actions contribute to the sequence of events.
Determine the meaning of words and phrases as they are used in a text, distinguishing literal from nonliteral language.
Compare and contrast the themes, settings, and plots of stories written by the same author about the same or similar characters (e.g., in books from a series).