Reading Comprehension Graphic Organizers for Fiction & Nonfiction - Digital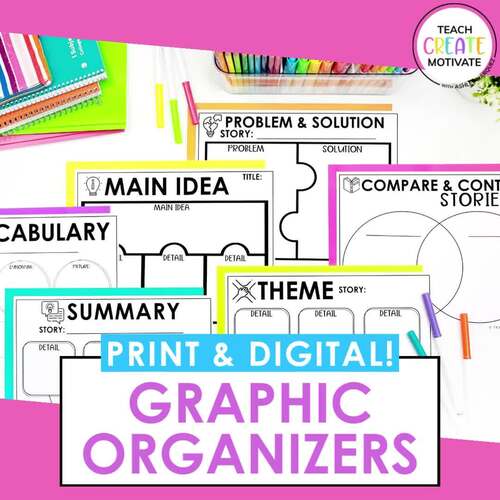 ;
Zip

Google Apps™
Includes Google Apps™
The Teacher-Author indicated this resource includes assets from Google Workspace (e.g. docs, slides, etc.).
What educators are saying
This is perfect for so many grade levels! Graphic organizers are great for brainstorming ideas! I love it.
These organizers are PERFECT!!!! I use them for just about every reading passage we read in class. Thank you so much!!!
Also included in
These are my top 4 resources I use every week in my literacy stations! My favorite part about them is the ability to use them over and over..prep them once and you're good to go! Student notebooksHave your students working on reading response, writing, and word work all in one place. Best part? give

Price $24.40

Original Price $30.50

Save $6.10

This bundle includes reading and writing resources to help you get started with distance learning. All resources are digital and can be reused again and again!Included:Digital Graphic OrganizersReading Response SlidesDigital Reading Response NotebooksDigital Selfie WritingWriting Prompt SlidesPlease

Price $30.60

Original Price $38.25

Save $7.65
Description
Help students organize and streamline their thinking with these reading comprehension graphic organizers. This set of fiction & nonfiction graphic organizers includes 20 skills and over 35 graphic organizers for any text. 
No prep and ready to assign, these print and digital graphic organizers are PERFECT for building great writers and improving reading comprehension. 
Allow your students to demonstrate their understanding of reading and writing skills through this resource of graphic organizers for any text type. You will find exactly what you are looking for with over 35 unique reading comprehension graphic organizers!
Fiction & nonfiction graphic organizers included:
K-W-L Chart
Cause & Effect
Author's Purpose
Compare & Contrast
Drawing Conclusions
Monitor Your Thinking/Reading
Problem & Solution
Inferences
Character Analysis
Sequencing
Summarizing
Story Elements
Main/Central Idea
Beginning-Middle-End
Theme
Story Map
Homophones
Vocabulary
Text Features
Nonfiction
3-2-1 Reflection
Think Clouds
Your students will love the variety of these reading comprehension graphic organizers that allow them to pinpoint their understanding. Your students will enjoy the guidance of these reading comprehension graphic organizers for any text. This resource sets students up for success by helping them organize their thoughts. You will get a better understanding of student ability by allowing them to show what they know. 
These graphic organizers can be used with any text in a variety of ways: whole group, small group, stations/centers, grade, quick check, and much more!
❤️ A great feature of this resource is it will naturally differentiate for your students.
Prep is quick and easy... Use the printable version or assign Google Slides through your learning management system. 
Included in this fiction & nonfiction graphic organizers product:
Color Versions of each graphic organizers 
Black and White version of each graphic organizer 
Black and white printable PDF 
Google Slides Link for digital graphic organizers
Video tutorials that shows how to assign in Google or SeeSaw
TEACHERS LIKE YOU SAID…
⭐️⭐️⭐️⭐️⭐️ Ashley B. says, "This is my most used resource from teachers pay teachers, I always have a need for it. Even if I don't print out the organizer, it helps me think of how to direct students to draw their own or reminds me of a way I can scaffold for my students. I can't rave enough about this."
⭐️⭐️⭐️⭐️⭐️ Veronica M. says, "I started using these graphic organizers this week to introduce the reading focus skill for the week. I printed a color copy for each student, we practiced the skill together, and the students glued it in their reading notebook. Game changer! Students were more engaged than just writing down information with no visuals."
⭐️⭐️⭐️⭐️⭐️ Alisha M. says, "I love that this resource is both printable and digital. Many times I would project the digital onto my whiteboard while the students had the printable version at their tables. I was able to maintain student engagement by allowing students to fill in tables/charts on the board while also being accountable for what was at their desk. I truly believe that this resource really allowed me to easily integrate these types of visuals more frequently, and I know that my students went to 3rd grade with a firm foundation of how to use and read these resources! Thank you!"
⭐️⭐️⭐️⭐️⭐️ Katia L. says, "There is such a wide variety of graphic organizers to help my students organize their thoughts and ideas! I use them for more than just language arts but for content and math as well!"
You may also like…
✅Reading Comprehension - Response Journals
Also, Click HERE  to follow me, to be notified when new products are uploaded and on sale! New products are always discounted the first 24 hours they are uploaded! 
Copyright © Teach Create Motivate.
Permission to copy for single classroom use only.
Please purchase additional licenses if you intend to share this product.
Report this resource to TPT