Reading Comprehension Journal Log BUNDLE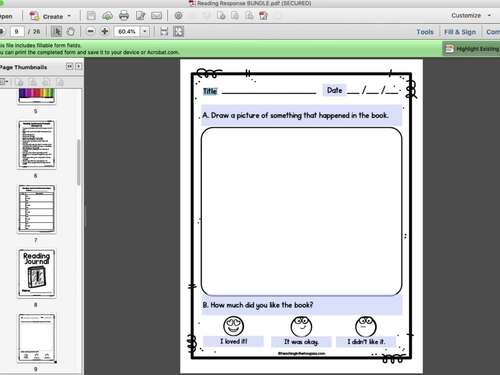 ;
Products in this Bundle (4)
Bonus
Bonus Digital Reading Log
Description
This is a bundled set of differentiated Reading Response Journals 1-4, plus a BONUS Nonfiction Reading Response Journal. Each reading journal corresponds to student reading levels ranging from DRA A-28 (Guided Reading Levels A-M) and can be used all year long for checking and practicing reading comprehension. Students move from one response journal to the next as their independent reading level changes. Use single pages or create packets and students can work on them independently after reading each book. They can also be used as a center, for guided reading, homework or even an early finisher activity (perfect for when you're doing assessments and you need the rest of the class to be quietly working). These response journals are ideal for any teacher working with students reading at a wide range of reading levels.
Each journal comes as a separate document and is in black and white for easy printing. Included in the Bundled set is a digital version for students to use on Google Classroom.
The Reading Comprehension Journal bundle includes:
Reading Journal 4 (DRA Levels 20-28 or Guided Reading K, L, M) response portion is 3 pages and consists of book title, date, author, book level, making predictions, vocabulary, beginning/middle/end summary, author's message, reflection and opinion.
Reading Journal binder cover page (to store your copy masters in)
Student packet cover pages (1 per level so you can tell them apart),
An exclusive Nonfiction reading response
Reading conference note page (for teacher observations/strengths/goals)
All rights reserved © Teaching in the Tongass
Report this resource to TPT