Reading Comprehension Passages Differentiated Grades 2nd 3rd 4th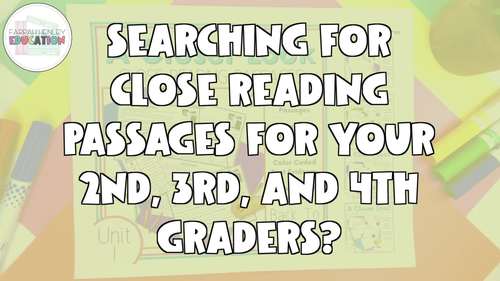 ;
What educators are saying
This is a fantastic resource that I used for both online and in-person learning. I love the differentiation options and supplemental written responses/questions that go with each passage.
My small group students are coming in at varying levels and this helps me address them all at the same time while also taking my ELLs into account.
Description
Close reading in your classroom helps your students dig deeper into the text they are reading. These 100 passages are written by two classroom teachers, differentiated to cover grades 2nd through 4th, giving you a total of 300 passages. Using these differentiated reading passages and comprehension questions will help you take your close reading instruction to the next level.
This resource includes:
100 Different Titles with Comprehension Questions (300 passages total)
8 Graphic Organizers
Annotation Key
Color-Coded Text Evidence Questions
Use this resource for:
Literacy Centers
Close Reading Instruction
Small Group Reading Instruction
RTI
Enrichment
If you desire to use one set of questions whole group, you can choose the questions that you believe your students as a group can discuss altogether. You have total control over how you differentiate this resource.
:
Unit #1: Back to School
Snooze Alarm
Welcome Back Students
Dodge the Ball
Year Round School
Important People at School
Safety First
Germs at School
Don't be a Bully
To Tag or Not to Tag
School Bus Safety
Unit #2: All About Fall
No White after Labor Day
The Fall Moon Festival
Fall Fruits and Vegetables
Fall Leaves and Trees
Why Seasons Change
Fall Football
Moving and Hiding
Trick or Treat
Fall Flyers
The First Thanksgiving
Unit #3: Time to Celebrate
Boxing Day
Culture Day
Diwali
Feast of Our Lady of Guadalupe
Happy Hanukkah
International Volunteers Day
Kwanzaa Time
National Unity Day
The Emperor's Birthday
Veteran's Day
Unit #4: Our Country
America's Military
America's National Flower
Mount Rushmore
The American Flag
The National Anthem
The Statue of Liberty
The National Animal
The Declaration of Independence
The American Bison
Becoming President of the USA
Unit #5: Winter is Here
All About Snow
Does the Cold Make You Sick
Hibernation
How Cold Affects the Body
Insects and Cold Weather
Living in an Igloo
Penguins and Polar Bears
The Arctic
The Winter Olympics
Winter Safety
Unit #6: Animals
Arctic Hare
Arctic Shark
Arctic Tern
Arctic Wolf
Dall Sheep
Ermine
Narwhal
Puffin
Arctic Wooly Bear
Wolverine
Unit #7: Heroes and Role Models
Martin Luther King, Jr.
Jackie Robinson
Ruby Bridges
Harriett Tubman
Rosa Parks
Neil Armstrong
Amelia Earhart
George Washington
Hellen Keller
Abraham Lincoln
Unit #8: The Earth
Earth Day
Recycling
Pollution
Planting Trees
Save Water
Reusable Items
Bike and Walk
Save Electricity
Global Warming
Compost
Unit #9: Spring Has Sprung
Spring
Monarch Butterflies
Plant Life Cycle
Coming Out of Hibernation
Spring Holidays
Baby Animals
Budding Trees
Cherry Blossom Festival
Spring Sports
Frog Life Cycle
Unit #10: Summer Fun
Swimming
Fourth of July
City Vacations
Beach Vacations
Mountain Vacations
Summer Weather
Backyard Games
Fireflies
Summer Foods
Water Parks
Looking for FIRST GRADE Reading Comprehension Passages?
❤️GET IT HERE❤️
***************************************************
About the Authors
Farrah and Heather are veteran classroom teachers with a total of 30 years in the elementary classroom between them. They are passionate about reading and helping students create a love for reading and understanding what they are reading. These passages were written and differentiated by two elementary teachers who have been in the trenches and taught Kinder-5th grade reading. Created by teachers for teachers!
***************************************************
Other Products You Will LOVE
❤️ 1st, 2nd, & 3rd Grade Morning Work — First, Second, & Third Grade Spiral Review
❤️ Math Review Games Second Grade: Squares Your Brain™
❤️ Math Review Games -- Squares Your Brain™ BUNDLE Second/Third Grade
❤️ Second Grade Centers Math and ELA -- Year Long BUNDLE
❤️ Third Grade Centers Math and ELA — 3rd Grade YEAR LONG GROWING BUNDLE
❤️ Math Review Games Third Grade: Squares Your Brain™
❤️ Sight Word Practice -- Third Grade
❤️ Fourth Grade Centers Math and ELA — 4th Grade YEAR LONG GROWING BUNDLE
✅Please FOLLOW my store to receive EXCLUSIVE notes to followers that will include EXCLUSIVE freebies and additional special deals for you!
*****************************************************
Customer Tips: Are you needing this resource for more than one teacher or classroom?
• This is a common occurrence among teachers, especially if you are part of a teaching team or grade level team. In order to make it easy, and legal, for you to share with your team, you may purchase additional licenses of this product for 25%-50% off the original price. In order to do this, go to your MY PURCHASES page and simply click BUY ADDITIONAL LICENSES. This is a great way to buy for an entire team or grade level while respecting the copyright licenses of the author. Thank you for being a responsible teacher buyer!
How to get TPT credit for use on future purchases:
• Please go to your MY PURCHASES page (you may need to login). Beside each purchase you'll see a Provide Feedback button. Simply click it and you will be taken to a page where you can give a quick rating and leave a short comment for the product. Each time you give feedback, TPT gives you feedback credits that you can use to lower the cost of your future purchases. I value your feedback greatly as it helps me determine which products are most valuable for your classroom so I can create more for you!
Be the first to know about my new discounts, freebies and product launches:
• Look for the green star next to my store logo and click it to become a follower. Voila! You will now receive email updates about my store!
**************************************************
Copyright © Farrah Henley Education, LLC © Farrah Henley and Heather McKenzie. All rights reserved by author. This product is to be used by the original purchaser and is a one classroom license. It may not be posted on a public website where others have access to download it and it may not be translated into another language and then posted for free or for sale.
Report this resource to TPT
Standards
to see state-specific standards (only available in the US).
Ask and answer such questions as who, what, where, when, why, and how to demonstrate understanding of key details in a text.
Identify the main topic of a multiparagraph text as well as the focus of specific paragraphs within the text.
Determine the meaning of words and phrases in a text relevant to a grade 2 topic or subject area.
Know and use various text features (e.g., captions, bold print, subheadings, glossaries, indexes, electronic menus, icons) to locate key facts or information in a text efficiently.
Identify the main purpose of a text, including what the author wants to answer, explain, or describe.