Reading Comprehension Passages Questions Fluency Phonics Intervention Worksheets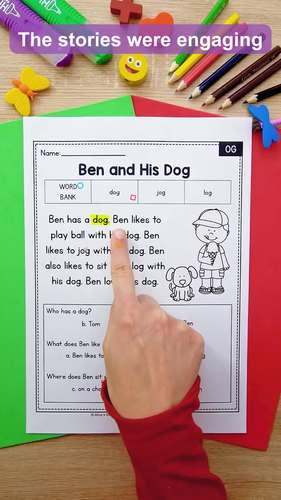 ;
What educators are saying
GREAT! Used to reinforce spelling patterns in centers and with homework. Awesome for i8ndependent work or review work for subs.
I've loved using these with my guided reading groups! I know my new students this year will live them too! Perfect way for them to gain confidence reading and to practice comprehension!
Description
⭐⭐⭐ FLASH SALE ⭐⭐⭐  GET THE ULTIMATE READING AND COMPREHENSION BUNDLE FOR JUST 19! ($100 VALUE)
Grab The Ultimate Reading and Comprehension Bundle for just $19! You can wait, but the time is running out! 
Phonics-based reading and comprehension passages.
Perfect for reviewing learned phonics 
Low Prep Required. Simply print and go.
Perfect for centers, homework, morning work, and more.
Perfect for Kindergarten, 1st grade, and RTI for second grade
 WHAT IS INCLUDED IN THIS BUNDLE:
Reading and Comprehension Passages - 156 writing prompts, 2 options available - (valued at $30)
Phonics Writing Prompts  - 156 writing prompts, 5 differentiation options available for each (valued at $30) 
BONUSES:

Write the Room Phonics Bundle - includes CVC words, sight words, beginning sounds, digraphs, trigraphs, CCVC words, CVCC words, diphthongs, double consonant, r-controlled vowels, blends, CVCe words, and more. preview here
I Spy Phonics   124 pages)
Digital Blending and Segmenting Cards (Google Slides)
PHONICS INCLUDED:
Short Vowel - CVC Words:

Short a: AB, AD, AG, AM, AN, AP, AT, ACK, ALL, AMP, AND, ANT, ASH
Short e: ED, EG, EN, ET, ECK, ELL, END, EST
Short i: ID, IG, IM, IN, IP, IT, IX, ICK, ILL, ING, INK, ISH
Short o: OB, OD, OG, OP, OT, OX, OCK, OP
Short u: UB, UD, UG, UM, UM, UN, UT, UP, UCK, UNK, UMP, UNG, USH
Short Vowel Words:

Short a: ACK, ALL, AMP, AND, ANT, ASH
Short e: ECK, ELL, END, EST
Short i: ICK, ILL, ING, INK, ISH
Short o: OCK, OP
Short u: UCK,UNK, UMP, UNG, USH
Long Vowel - CVCe Words

Long a: AKE, AME, ACE, ATE, ANE, ALE, APE, ASE, AVE, AGE
Long i: IPE,IVE,IKE,IME,ITE,ILE,ICE,IRE,IDE,INE
Long o: OKE,OME,OLE,OSE,ODE,OBE,ONE,OTE
Long u: UNE, UBE, UTE
Long Vowel

Long a: AI, AY
Long e: EA, EE, IE
Long o: OA, OE
Long u: UE, UI
Blends:

L Blends: BL,CL,FL,GL,PL, SL
R Blends: BR,CR,DR,FR,GR,PR,TR
S Blends: SC,SP,SN,SW,ST,SK,SM
Beginning Digraphs: CH, SH, TH, WH, PH, KN, WR, QU
Ending Digraphs: SH, TH, CH, CK, NG
Ending Trigraphs: DGE, TCH
Beginning Trigraphs: Squ, Spl, Thr, Ser, Str, Spr
Vowel Teams: AI,AY,EA,EE,IE,OA,OE,UE,UI
R Controlled Vowels: AR, ER, IR, OR, UR
Diphthongs: EW, OO, AW, AU, OW, OU, OI, OY
WHY YOU SHOULD CHOOSE THIS BUNDLE
Save money that you'd spend buying individual activities.
Save time. Get your after-school hours and weekends back and spend more time with your loved ones.
Don't let your students fall behind. 
Practice a wide variety of skills.
Report this resource to TPT