Reading Comprehension Passages Weather - Digital & Print Close Reading Activity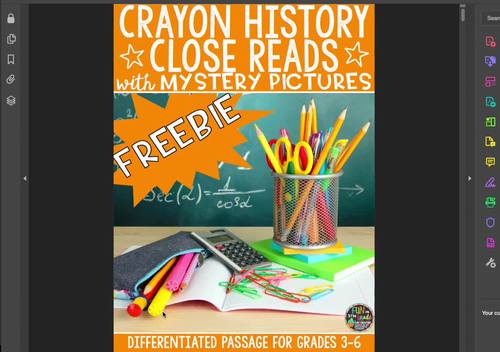 ;
Also included in
Educate students with high interest topics while preparing them for testing with this mini bundle of close reading passages that include mystery pictures! Covers MANY ELA standards and are great for test prep, review, or to spiral the standards all year! Just print and GO! Students will be BEGGING t

Price $16.99

Original Price $24.00

Save $7.01

Practice lots of important ELA standards with this ALL-ACCESS BUNDLE of all 37 current sets of close reading passages with mystery picture activities, as well as, all future sets that I make. Just print and GO! Great activity for ELA practice + FUN! All sets include print and digital versions. Sets

Price $189.99

Original Price $288.00

Save $98.01

This is an EVERYDAY BUNDLE of 12 sets of themed Close Reading Comprehension with Mystery Pictures, provided in both DIGITAL and PRINT formats, and designed to engage students in analyzing text using close reading comprehension strategies.  This resource motivates students to persevere through the mu

Price $64.99

Original Price $96.00

Save $31.01
Description
Weather Close Reads with Mystery Pictures, provided in both DIGITAL and PRINT formats, are designed to engage students in analyzing text using close reading comprehension strategies.  This resource motivates students to persevere through the multi-draft reading process with the use of the mystery grid picture, making it a fun activity that students will ask for again and again! 
⭐️⭐️⭐️Save BIG when you buy the BUNDLE!  ⭐️⭐️⭐️
This Weather set features three different texts about a tropical storm, tornados, and rainbows. Students will love learning about these weather-themed topics as they read 3 different texts: one fiction passage and two informational texts.  These texts are DIFFERENTIATED at three reading levels, so all students will be appropriately challenged!  As they complete the close reading process, students will build comprehension by answering text-dependent questions. Here's the fun part: their answers to the questions will help them "decode" and color the corresponding weather-themed mystery grid picture! 
Graphic organizers and writing prompts are also included to enhance reading comprehension and can be used as you see fit!  Want to see for yourself? Check out this fun to see how the text levels and questions can work for your classroom! 
This activity is perfect for training students to read a text multiple times in order to truly understand it. By reading a text more than once, annotating it, and answering questions, students will learn to find and analyze:
Author's purpose
Text structure
Text-based evidence
Central ideas
      ...And more!!
Teacher Pages: explaining the different parts of the resource and how to use it in the classroom
Digital Copies: of the student pages for assigning via Google Slides or Powerpoint + instructions
3 Different Texts: passages that are differentiated into three different reading levels. 1 fiction and 2 nonfiction texts
10 Text-Dependent Questions: corresponding to each passage (Option to use with or without the mystery grid)
3 Mystery Grid Pictures:  one for each passage, corresponding to the text-dependent questions
3 Writing Prompts: one for each passage
Graphic Organizers: as an option to use with any of the texts
Student Printables: close reading/annotating tip sheets to print for the students to keep/use during the process. Perfect for notebooks!
❶ "Tropical Storm Claudette" a fiction passage about a tropical storm that hit Texas and one family's struggle to get out
❷ "Tornados: A Closer Look" an informational passage with interesting facts all about tornados
❸ "How Are Rainbows Made?" an informational passage about the conditions needed to create rainbows and how it all works
Want to see more Close Reading with Mystery Picture sets?
Get filled with goodies for your upper elementary classroom.
If you would like to contact me about pricing on a license for an ENTIRE school, county, or district, please email me at
This item is a paid digital download from my TpT store
As such, it is for use in one classroom only. This item is also bound by copyright laws. Redistributing, editing, selling, or posting this item (or any part thereof) on the Internet is strictly prohibited without first gaining permission from the author. Violations are subject to the penalties of the Digital Millennium Copyright Act. Please contact me if you wish to be granted special permission!
*****************************************************************************
• Please go to your My Purchases page (you may need to login). Beside each purchase, you'll see a Provide Feedback button. Simply click it and you will be taken to a page where you can give a quick rating and leave a short comment for the product. I value your feedback greatly as it helps me determine which products are most valuable for your classroom so I can create more for you. ☺
Be the first to know about my new discounts, freebies, and product launches:
• Look for the green star near the top of any page within my store and click it to become a follower. You will then receive customized email updates about this store. ☺
Report this resource to TPT