Reading Constructed Response and Extended Response - Includes Digital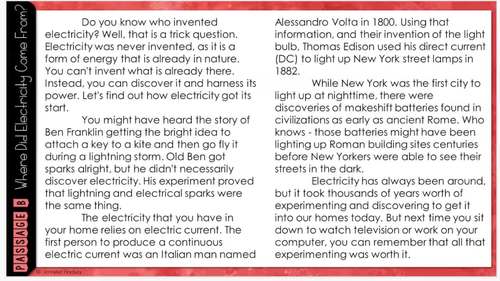 ;
Zip

Google Apps™
9 sets (12 total passages) + Google Slides Versions
Includes Google Apps™
This bundle contains one or more resources with Google apps (e.g. docs, slides, etc.).
What educators are saying
All of her resources are top-notch. I use it for tutoring virtually. Purchase it. You wont regret it.
This was a great resource for teaching R.A.C.E.S. It took all the leg work out of having to find text, paired text, and creating questions! EXCELLENT find!
Products in this Bundle (3)
Also included in
Do you need resources to prepare your students for constructed response reading test prep? This reading test prep bundle will help!Need test prep resources that offer more variety of questioning types? Click here to check out Test Prep Bundle #2: Variety of Question Types.About the Reading Test Prep

Price $38.00

Original Price $67.50

Save $29.50

Do your students struggle when answering constructed response reading questions? If so, the resources in this bundle will provide a variety of constructed response practice to help you teach, model, and provide much-needed practice to your students. About the Reading Constructed Response Resources

Price $14.00

Original Price $20.50

Save $6.50

Are you tired of scrambling for engaging, rigorous, and comprehensive test reading prep activities? Do you need reading test prep resources that include a variety of question types…multiple choice, constructed and extended response, multi-part, and multi-selection in lots of different formats for va

Price $72.00

Original Price $119.50

Save $47.50
Description
Do you need reading constructed response practice for your 5th graders? This 5th grade constructed response resource is a bundle of THREE of my reading constructed response task resources.
NOTE: The reading constructed response tasks now include Google Slides™ versions. Please see pages 6-8 of the PDFs for details and the link!
Each set contains full page-length passages written at a 5th grade readability.
The passages also include 4-8 constructed response questions, and some include an optional writing extension.
These sets contain a huge variety of reading skills and standards at a 5th grade level. To see which skills are addressed in each set, click on the individual listings above or see the skills section below.
Answer keys are included for each task. However, due to the nature of the questions, the answer keys are example answers only. A common core alignment is also provided on the answer key pages.
This resource also includes generic posters pertaining to answering constructed response questions and a generic rubric to help you score the questions. The students could also use the rubric to self-assess.
Each set includes 3 passages or 3 sets of passages (for the paired passage set). You can choose to use all three as practice, two as practice and one as an assessment, or one as practice, one as an assessment, and one as re-teaching.
Works for whole group review, small group instruction, independent practice, assessment, and more!
Each passage includes extended response prompts that require students to write a well-organized essay using text evidence to support and explain their thinking. I have included examples you can use to model how to accurately answer each prompt for your students.
In order to best meet the needs of your students and match the rubric you'll be using, I have also included the responses in Google Docs so you are able to edit them.
I suggest using the editable responses in the following ways:
Edit the response to match the rubric your state uses
Edit the response to remove vital information, then challenge your students to find what's missing and/or what needs to be added
The length and complexity of your students' answers will depend on your expectations and the specific rubric you use in your classroom. Due to this fact, I have provided a task card version with an optional recording sheet for your students to use so they are not limited to the space provided on the worksheet version.
The digital version is created for use with Google Slides™.
The students use text boxes to type in their answers.
There are THREE digital versions:

Version 1 - Offers graphic organizer support for students to help them plan their response
Version 2 - No graphic organizer support; includes text boxes for answers only
Version 3 - Full-slide questions and writing prompts
The content is the SAME as the printable version.
Answer keys can be found in the PDF.
Check out the video preview to see the digital constructed response tasks.
Making inferences
Providing evidence and quoting the text to support inferences
Determining theme
Responding to challenges
Comparing and contrasting story elements
Determining the meaning of words and phrases
Point of view
Visual elements
Main idea
Text structure
Defining terms using context clues
Making inferences
Providing evidence to support main points
Making connections between ideas presented in a text
Inferences
Quoting the text to support inferences
Identifying how a speaker reflects on a topic
Determining main idea
Identifying reasons to support main points
Integrating information
Identifying structural elements of poetry and prose
Identifying connections between events and ideas
How point of view influences a text
Visual elements
Comparing and contrasting
Want more paired passages? ---> Click here to see more paired passages resources!
Need More Reading Activities Resources for 4th and 5th Grade?
• 4th and 5th Grade Reading Test Prep Task Cards | Nonfiction and Fiction BUNDLE
• Color by Reading Printables for 4th and 5th Grade
• Reading Centers | Bundle: 40+ Reading Games
• Reading Puzzles Bundle | 4th and 5th Grade Reading Centers
• Reading Resources | 4th and 5th Grade Common Core Reading Supplements
Total Pages
9 sets (12 total passages) + Google Slides Versions
Teaching Duration
1 month
Report this resource to TPT