Reading Fluency | Sight Word Practice | Reading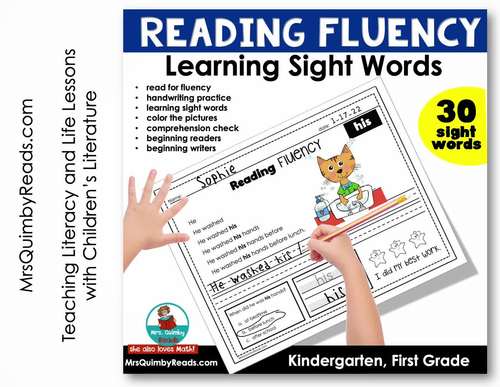 ;
Description
Reading Fluency and Learning Sight Words ...Practice your fluency in reading and learn sight words with these pages.
30 pages to practice reading fluency and learning sight words in this teaching resource.
the, of, and, a, to in, is, you, that, it, he, for, was, on, are, as, with, his, they, at, be, this, from, I, have, or, by, one, had, not.
These sight words are common high-frequency words.
Each page illustrates a short reading passage to read including the sight word. Student reads sentences for fluency in a structured manner, answers a short comprehension question and writes the sight word.
reading fluency
introduction to answering comprehension questions for beginning readers
handwriting practice
recognizing and reading sight words
color a picture that matches the sentence
These pages are perfect for small group instruction or independent seat work for beginning readers. Thank you for previewing this teaching resource.
Would you like to know when I post new teaching resources? Follow ME on TPT
Sight Word Puzzles - Apple Theme
Sight Words - Read. Write. Color. Practice. Learn
Sight Words - Read. Cover. Write. Check
Sight Words - Make. Read. Write. Learn
Sight Words - March Theme Puzzles
***********************************************************************************
50% off all new teaching resource listings for the first 24 hours.
Follow to receive notifications for new listings, sales and updates.
Thank You Followers.
*************************************************************************************
Report this resource to TPT
Standards
to see state-specific standards (only available in the US).
Demonstrate understanding of the organization and basic features of print.
Follow words from left to right, top to bottom, and page by page.
Recognize that spoken words are represented in written language by specific sequences of letters.
Understand that words are separated by spaces in print.
Recognize and name all upper- and lowercase letters of the alphabet.