Reading Graphic Organizers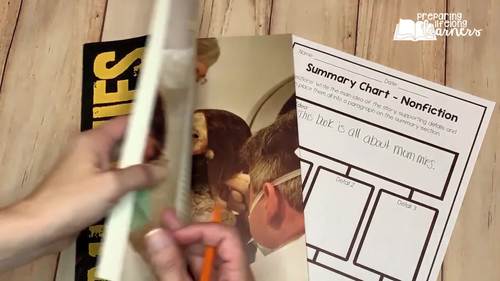 ;
What educators are saying
These graphic organizers were just what I was looking for! They have been a great help for my students.
Description
Fiction and Non-Fiction (Informational) Graphic Organizers that can be used with any text! These graphic organizers include strategies and skills for reading!
It includes the following organizers:
•Cause and Effect
•Author's Purpose
•Author's Point of View
•Predicting – the story, elements of the story
•Parts of a Story
•Inferring
•Main Idea
•Visualizing
•Sequencing
•Problem and Solution – multiple types
•Character Traits
•Questioning
•Retelling
•Topic Web
•KWL
•Nonfiction Notes
•Summary Chart – Nonfiction
•Summary Chart – Fiction
•Finding Text Features
•Finding Text Features – fill in text features yourself
•Compare and Contrast
•Compare and Contrast T Chart
•Making Connections
•Vocabulary
•Story Endings
•Genre
•Fact and Opinion
•Somebody Wanted But So
•Somebody Wanted But So Then
•Chapter Stop Signs
•Tenses
•FQR
•Plot vs. Theme
•Character Changes
•Boxes and Bullets
•What? So What?
•What happened? What it made me think!
These graphic organizers can be used with individual students, as part of a guided reading group, a book club, or any other way you want to use them!
Two versions are included in this product. One version includes color graphics, the other black and white graphics (43 graphic organizers with 2 versions means 86 pages total).
Check out the preview for 2 FREE graphic organizers and a peek at some of the other organizers to see if they are right for you and your classroom!
Report this resource to TPT