Reading Interactive Notebook w/ Option for Google Slides™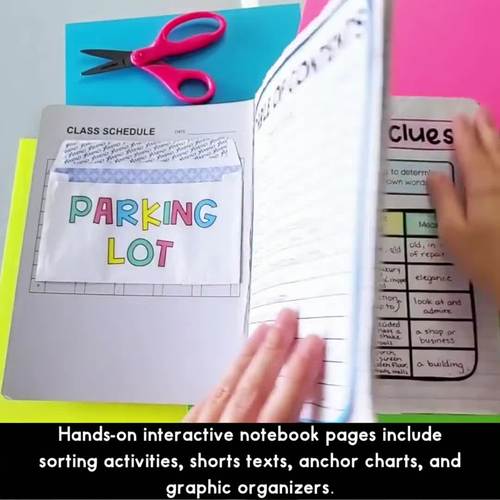 ;
Zip

Google Apps™
354 pages + 5 editable pages + 103 Google Slides
Includes Google Apps™
This bundle contains one or more resources with Google apps (e.g. docs, slides, etc.).
What educators are saying
This is a life saver! Everything is ready to go! I love how it is consistent across all skills. Thank you so much!
This was an incredible resource that I used when I introduced a new standard. It was very easy to use and dives into the standard in a way that is relatable to students.
Products in this Bundle (29)
showing 1-5 of 29 products
Bonus
Full Reading Interactive Notebook & Google Slides
Description
Want a tool to help you quickly plan engaging, effective reading lessons? The Reading Interactive Notebook is just what you're looking for! This Common Core and TEKS-aligned reading interactive notebook is a great tool for introducing skills and strategies and will be an effective supplement to your reading lessons.
This notebook doesn't just give you interactive pages to use with your students. It also gives you loads of tools to help you plan fun, engaging units all year!
All cutting and gluing is kept simple so you and your students can focus on learning the concepts, reading, thinking, and responding.
What's Inside:
⭐ Interactive Notebook Pages That Include:
Mini Anchor Charts
Pages for Use with Any Text
Activities and Lessons with Short Texts
Sorting Activities
Editable Versions of Graphic Organizers (when necessary)
Version compatible with Google Slides™
⭐ Resources to Help You Plan:
Book Lists for Each Skill and Strategy
Lesson Ideas and Links for Reference
Explanations & Examples
⭐ PLEASE NOTE: I'd suggest downloading the bonus file first. It has everything in the whole bundle put together as 1 PDF (including the page with a link to the Google Slides). I think it's easier to navigate that way.
Click the Google Slides links in the individual products if you prefer to have the Google Slides separated.
⭐ BONUS FILE ALSO INCLUDES:
Cover Page for Teacher Binder
Table of Contents for Teacher Binder
Assembly Instructions & Tips
Cover Page for Reading Interactive Notebook
Table of Contents for Interactive Notebook
Student Reading History Page
Suggested Order (NOT intended to replace your scope & sequence)
Link to FREE Figurative Language Interactive Pages - This is an optional email opt-in to let you receive notifications when The Reading Interactive Notebook has been updated.
_________________________________________________________________________________
What Others Have Said About The Reading Interactive Notebook:
"This resource has been such a stress reliever for me!! Whenever I am ready to start a new unit, I just go search and see what resources there are. I like that there are several options for each skill."
"After buying a few of the pieces separately, I finally purchased the entire notebook for my centers. It is a great rotation that reinforces the skills students are already learning."
"This bundle is a reading teacher's dream! Thank you for creating it."
"My kids love this digital interactive notebook and so do it! So glad I purchased it!"
"This product is great for interactive notebooks and it also helps with my anchor charts. Students really understand the concept. It is my go-to product."
"It is AMAZING!!! I love how there are examples and spaces for students to write on as well as pre-written text! Thanks so much!!"
"WE love this resource in my classroom. It helps to put reading skills in easy terms for my students. They love the visual to refer back to. Well worth the investment in this resource!"
_________________________________________________________________________________
✨ All my new products are 50% off for the first 24 hours. Click here to follow my store and receive notifications when I create something new so you don't miss out on the savings.
I'd love to hear from you if you have any questions, issues, or requests!
❤ Laura Heinen
laura@cultivatingcriticalreaders.com
cultivatingcriticalreaders.com
_________________________________________________________________________________
✨ Leave a review to get TPT credit to use on future purchases:
Each time you give feedback, TPT gives you feedback credits that you use to lower the cost of your future purchases. You can easily do this by clicking the "Provide Feedback" button next to the items you've purchased on your "My Purchases" page.
Total Pages
354 pages + 5 editable pages + 103 Google Slides
Report this resource to TPT
Standards
to see state-specific standards (only available in the US).
Ask and answer questions to demonstrate understanding of a text, referring explicitly to the text as the basis for the answers.
Recount stories, including fables, folktales, and myths from diverse cultures; determine the central message, lesson, or moral and explain how it is conveyed through key details in the text.
Describe characters in a story (e.g., their traits, motivations, or feelings) and explain how their actions contribute to the sequence of events.
Determine the meaning of words and phrases as they are used in a text, distinguishing literal from nonliteral language.
Refer to parts of stories, dramas, and poems when writing or speaking about a text, using terms such as chapter, scene, and stanza; describe how each successive part builds on earlier sections.