Reading Intervention Binder No Prep 2nd Edition: SOR Aligned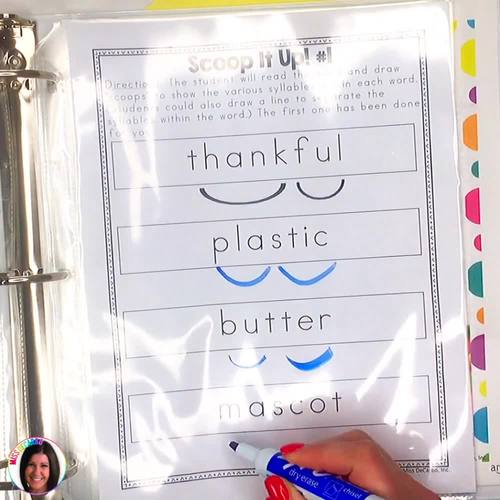 ;
What educators are saying
I liked using this as extra practice for my struggling readers during our reading time (one-on-one). Easy to use once put together.
I LOVE this resource for intervention, EL small group. It is a fabulous resource Make sure you buy both notebooks! Worth every penny.
Also included in
This reading intervention and assessment binder BUNDLE includes the following three binders from my shop:No Prep Reading Intervention Binder for Beginning Readers (ELA)No Prep Reading Intervention Binder Edition 2 (Long Vowels and More!)No Prep Assessment Binder (ELA Edition)These phonics binders ar

Price $58.00

Original Price $58.49

Save $0.49

This Ultimate No Prep Reading and Math Intervention and Assessment Binders BUNDLE PACK includes all five of my best-selling binders:No Prep Reading Intervention Binder for Beginning Readers (ELA)No Prep Reading Intervention Binder Edition 2 (Long Vowels and More!)No Prep Assessment Binder (ELA Editi

Price $97.00

Original Price $97.99

Save $0.99
Description
A no-prep reading intervention binder that is aligned to the science of reading and explicitly teaches and reinforces CVC-e long vowel words, vowel teams, r-controlled vowels, diphthongs, multi-syllabic words, suffixes, other long vowels, fluency, and more!
When and where should I use this binder?
The No-Prep Reading Intervention Binder is ideal for one-on-one instruction, small group reading, paraprofessionals, Tier 2 and Tier 3 intervention groups, practice, and re-teaching! The binder is ink-friendly and can be used over and over again with the use of sheet protectors and dry erase markers. Your time is precious! Intervention should be powerful,purposeful, and easy to prep!Intervention tools will be at your fingertips with your time-saving and effective binder!
What skills does this intervention binder target?
Multisyllabic Words
Suffixes
Silent E Long Vowel Words (CVC-e and CCVC-e)
Vowel Teams / Vowel Pairs
Other Long Vowels (eigh, ight, etc.)
R-Controlled Vowels
Diphthongs
Fluency
What grade level or level is this binder designed for?
-First-grade students
-Struggling second-grade students
-Readers who struggle to decode and read simple passages fluently
-At-risk readers who have not mastered decoding skills yet
-Special Education students who have phonics and fluency IEP goals
-Homeschooling parents who are looking for a resource that directly reinforces and teaches decoding skills, phonics, fluency, and word identification.
How do you use the reading intervention binder?
Each page contains directions - making it simple to give to a parent volunteer, paraprofessional, new reading teacher, or aide to work with your students! You could even print the pages out for your students to practice at home for reinforcement after you work with them. Students work through the pages in each section (you can jump around from section to section as needed) and use a dry erase marker to complete the activities.
Can I use this for assessment purposes?
This intervention pack was not created for the purpose of assessment - but I have a coordinating No Prep ASSESSMENT Binder with editable data recording sheets, assessments, and parent reports that you can find below:
No Prep Assessment Binder ELA Edition
The intervention binder is perfect to use for practice and intervention before, in between or after progress monitoring.
I have students who need short vowels, digraphs, blends, and phonics practice at an easier level. Do you have an intervention binder for beginners?
I sure do! Please take a look at the Beginning Reading Intervention Binder below for your beginning readers:
No Prep Intervention Binder for BEGINNING Readers
"Miss DeCarbo, how do YOU use this binder in your classroom?"
I pull my kids back one at a time (sometimes in twos or threes) and we work on several pages from a specific section together during our RTI time and small group time. The possibilities for using this pack are endless and can be catered to meet your students' needs!
I hope you enjoy this literacy intervention tool as it prepares your students to succeed in their emergent reading skills. I have been using it in my classroom and it has been SO effective and simple to use! My students have truly enjoyed the activities within this page and love getting to work one-on-one with me and in our small intervention groups.
You can find ALL of my No Prep Intervention Binders below:
No Prep Intervention Binder ELA Edition
No Prep Intervention Binder ELA Edition 2
No Prep Intervention Binder MATH Edition
No Prep Intervention BUNDLE ELA and MATH
Check out my coordinating No Prep ASSESSMENT Binders:
No Prep Assessment Binder ELA Edition
No Prep Assessment Binder Math Edition
No Prep Assessment Binder BUNDLE
*If you like this intervention binder, you may like some of my other intervention packs:
Sight Word Fluency Passages for Reading Intervention
Text Evidence Passages for Fluency and Comprehension
Topics and Skills Covered in this binder: long vowel intervention, r-controlled vowels, diphthongs, vowel teams, vowel pairs, suffixes, cvc-e words, blends, digraphs, word lists, fluency, digraphs, nonsense words, sounds, letters, phonics identification and decoding
Areas of Use: RTI, practice, small groups, literacy groups, great for beginning readers, struggling readers, reading groups, emergent readers, and home school instruction
Please note: This pack will ONLY be changed or edited in the event of an error. Please feel free to email me with any questions you may have prior to your purchase. :)
Happy Learning,
Christina DeCarbo
Miss DeCarbo, Inc.
Copyright 2015
Report this resource to TPT