Reading Intervention: NonFiction *with Google Classroom™ for Distance Learning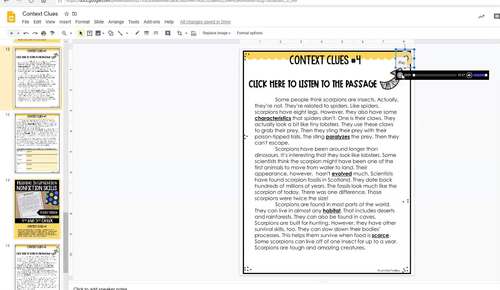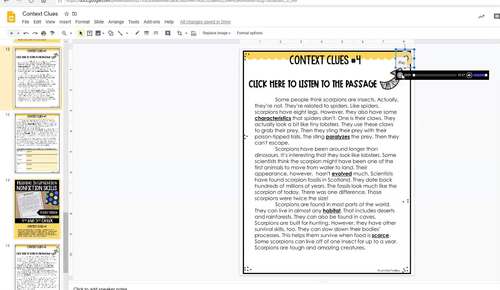 Created By
Jennifer Findley
File Type
PDF
(
18 MB
|
35 +Answer Keys
)
Also included in:
Are you a 4th or 5th grade teacher with students who read on a 2nd or 3rd grade reading level? This BUNDLE of my reading intervention printables will help you ensure those readers are still having access and practice with grade level standards and skills.Note: This reading intervention set now inclu
Product Description

Standards
Are you a 4th or 5th grade teacher struggling to meet the needs of your readers who read on a 2nd or 3rd grade reading level? It is incredibly challenging to meet our readers where they are while still exposing them to instruction and practice in grade level standards. This set of reading intervention skill printables was created to provide grade level practice for those readers.
Note: This reading intervention set now includes a digital version with an audio component! In Google Classroom, the students can click an audio button and listen to the story read aloud by a professional voice talent actor. Your students will love listening to the texts read aloud!
This reading intervention resource was specifically created to support students who read at lower levels with grade level 4th and 5th grade nonfiction skills.
This set covers nonfiction skills. Click here to see the Reading Intervention: Fiction Set.
The texts included in this resource are written at a 2nd/3rd grade reading level but provide practice in grade level skills for 4th and 5th grade.
The texts are also written with appropriate topics for upper elementary students. (Note: These are still "parent appropriate" topics and contexts. They are definitely more engaging than reading most texts meant for 2nd graders, but they are still school-appropriate.)
The skills included in this reading intervention resource are:
main idea
text structure
making inferences
firsthand/secondhand accounts
multiple accounts of the same topic
main point
context clues
These reading intervention printables can be used for reteaching small groups, guided reading, reading centers, listening centers, or independent reading practice.
There are 35 practice printables included in this resource. See below for the breakdown by skill.
Main Idea - 5 Printables
Text Structure - 7 Printables (2 Paired)
Inferences - 5 Printables
Firsthand and Secondhand Accounts - 6 Printables (2 Paired)
Multiple Accounts of the Same Topic - 2 Printables (Paired)
Main Point - 5 Printables
Context Clues - 5 Printables
The reading intervention passages are divided into sets by skill.
Each set includes several text sets.
Each set includes a title page, a one page text with embedded audio of the story being read aloud, and a response page with questions (and the text repeated but without audio).
*These resources include grade level texts unless specified.*
Paired Passage Differentiated and Scaffolded Texts and Questions
Log in
to see state-specific standards (only available in the US).
Describe how a narrator's or speaker's point of view influences how events are described.
Determine the meaning of words and phrases as they are used in a text, including figurative language such as metaphors and similes.
Determine a theme of a story, drama, or poem from details in the text, including how characters in a story or drama respond to challenges or how the speaker in a poem reflects upon a topic; summarize the text.
Quote accurately from a text when explaining what the text says explicitly and when drawing inferences from the text.
Compare and contrast the point of view from which different stories are narrated, including the difference between first- and third-person narrations.
Report this Resource to TpT