Reading Inventory - Back to School Activity, Student Data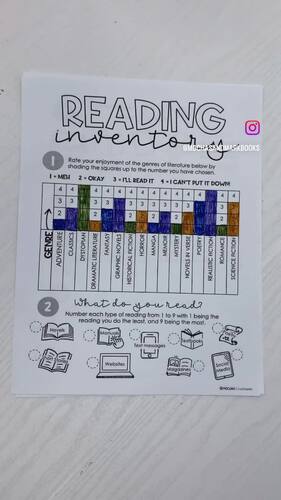 ;
Description
Reading inventories provide a valuable insight into our students' habits, interests and attitudes as readers.
Gathering reading inventory data at the start of a year or semester will help to:
plan engaging lessons that include students' preferred reading genres
Include students' preferred methods of reading
Plan intervention and support for students' specific reading needs
Get a sense of how much your students are reading
Provide you and your students with clear reading goals to work towards
This resource includes:
Teacher's Guide
A two-page student handout with five reading inventory tasks
Reading genres interest chart
What do you read? Find out the kinds of reading your students are doing
How do you read? Find out your students' preferred methods of reading
Need any help? Find out what difficulties your students have with reading
Goal-Getter - After reflecting on the inventory, students create a reading-related goal
****************************************
You might also like…
****************************************
Customer Tips:
Be the first to know about my new discounts, sales, and product launches:
Look for the green star next to my store logo and click it to become a follower!
How to get TPT credit to use on future purchases:
Visit your My Purchases page and click on the Provide Feedback button beside each purchase where you can give a quick rating and leave a short comment for the product. Each time you give feedback, TPT gives you feedback credits that you can use on future purchases. I appreciate all of your feedback!
Questions?
Ask me in the Q&A tab or email me directly at: mochasandmarkbooks@gmail.com
****************************************
Connect with Me
Report this resource to TPT