Reading Level Teacher Notebook and Student Tracking Pages Levels A-Z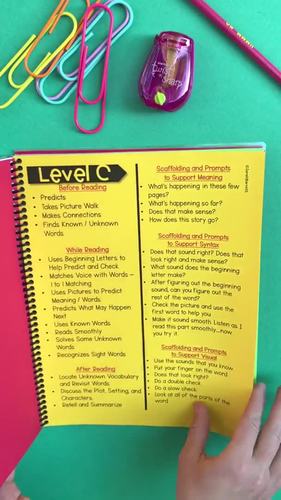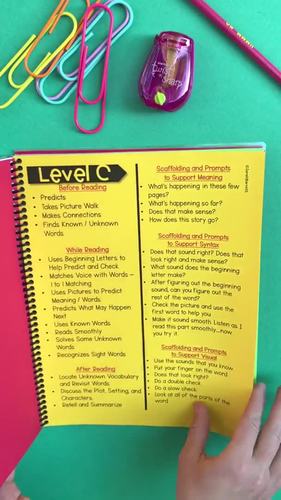 Also included in:
These two tools will change your reading and writing conferences for the better! Use the Reading Level Teacher Notebook and Student Tracking Pages to confer with your students levels A - Z (Plus ALL DRA levels!) Give your students the tracking pages to hold them accountable while reading independent
Product Description
This resource is PERFECT for helping you with conferring and teaching reading to students in guided reading levels A – Z (DRA levels too!) I created it after years and years of having various papers and binders to carry with me during reading conferences. I compiled various checklists and combined them with my own thirteen year experience to create simple pages to refer to while working with students.
Create a reading level notebook to carry around while conferring or conducting groups. The resource includes a page (or two) for each Fountas & Pinell guided reading level A - Z and DRA level 1 60.
Each page has a summary with before, during, and after reading skills. This will help you to easily know and remember what specific skills your students should be working on at that level.
Scaffolding and support prompts are also given for various categories depending on the reading level. They include syntax, meaning, visual, comprehension, fluency, decoding (MSV), main idea & detail, cause & effect, inferences/conclusions, character analyzing, vocabulary, and analyzing the text. These prompts will give you easy wording for student goals.
After teaching your students, you want to make sure they walk away remembering their teaching point.
To do this, give each of your students a goal tracking sheet for his/her level. Use a post-it note to easily give a goal for the week so they can remember what you worked on. I have my students keep their tracking sheets in sheet protectors in their book bins. Included are tracking sheets for levels A - Z and 1 - 60.
The tracking sheets also work as an easy way for your students to tally the number of books they have read in both fiction and nonfiction.
To read more about this resource - check out my blog post here!
What is included:
→ Two Notebook Cover Choices
→ Teacher Guide Pages for Fontas & Pinell Levels A – Z and DRA
→ Two Options for Student Tracking Pages for Levels A – Z and 1 - 60
→ Directions on How I Use This Resource
**************************************************************************
You may also be interested in these resources from my store!
Goal! Visual Goal Setting Sheet for Students
Handwriting Packet – For School and Home
**************************************************************************
Follow me on social media to learn tips, tricks, and see my latest resources!
❤️Instagram - Mrs B First Grade
❤️Facebook - Mrs B First Grade
❤️Pinterest - Mrs B First Grade
Be the first to know about my new discounts, freebies and resource launches:
Look for the green star next to my store logo and click it to become a follower. Voila! You will now receive email updates about this store including when I post a new resource. Resources are always half off for the first 24 hours!
**************************************************************************
Answer Key
Does not apply
Teaching Duration
Lifelong tool
Report this Resource to TpT