Reading Response Choice Boards | Fiction & Non-Fiction | Editable | Digital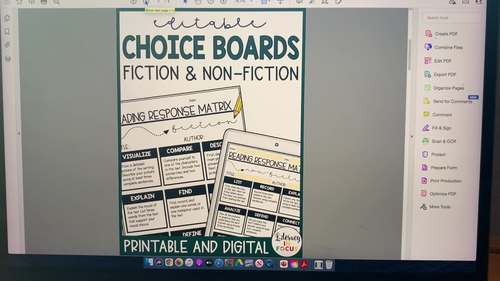 ;
PDF

Google Apps™
4 Printable Pages / 4 Digital Pages
Includes Google Apps™
The Teacher-Author indicated this resource includes assets from Google Workspace (e.g. docs, slides, etc.).
Description
These reading response choice boards are completely EDITABLE, so you can print them as is or change the prompts to meet the needs of your students! This printable and digital bundle of fiction and non-fiction choice boards includes a total of 36 engaging and thought-provoking response activities that your students will LOVE!
**This resource can be completed on paper or online with laptops, Chromebooks, tablets, or any device that supports Google Slides. The included Teacher's Guide includes access to the link that will allow you to make your own copy of the resource for use in Google Classroom/Google Drive.**
INCLUDED WITH YOUR PURCHASE:
Fiction Choice Boards: Two editable, printable, and digital fiction choice boards are included for students to use with fictional literature, chapter books, short stories, and more! Each fiction reading menu includes 9 response prompts that will work with any text.
Non-Fiction Choice Boards: Two editable, printable, and digital non-fiction choice boards are included for students to use with informational text, biographies, articles, and more! Each non-fiction choice board includes 9 comprehension prompts that will work with any text.
Editing Directions:
This resource is an editable PDF. You do NOT need to purchase any additional software to use this resource. All you need to do is open the PDF (like you would open another other PDF), and start editing! Simply click on the editable text fields, add your text, and print! You can use the provided custom font, or change the font to meet your needs. *The highlighted text fields are for teacher editing purposes only. The choice boards are not set up for students to complete as an editable PDF, please access the Google Slides version for students to complete digitally.
Additional Reading Resources:
Reading Comprehension Graphic Organizers | Printable and Digital
Root Words, Prefixes, and Suffixes Digital Unit Bundle
Current Event Templates | Printable and Digital
Literacy Centers | Reading Comprehension & Opinion Writing
Want a FREE resource each month? Click HERE to follow Literacy in Focus, and you will be sent the monthly freebie!
Thank you!
©Literacy In Focus
Total Pages
4 Printable Pages / 4 Digital Pages
Report this resource to TPT
Standards
to see state-specific standards (only available in the US).
Read closely to determine what the text says explicitly and to make logical inferences from it; cite specific textual evidence when writing or speaking to support conclusions drawn from the text.
Determine central ideas or themes of a text and analyze their development; summarize the key supporting details and ideas.
Analyze how and why individuals, events, and ideas develop and interact over the course of a text.
Interpret words and phrases as they are used in a text, including determining technical, connotative, and figurative meanings, and analyze how specific word choices shape meaning or tone.
Analyze the structure of texts, including how specific sentences, paragraphs, and larger portions of the text (e.g., a section, chapter, scene, or stanza) relate to each other and the whole.