Reading Response Journal Reading response notebook Readers notebook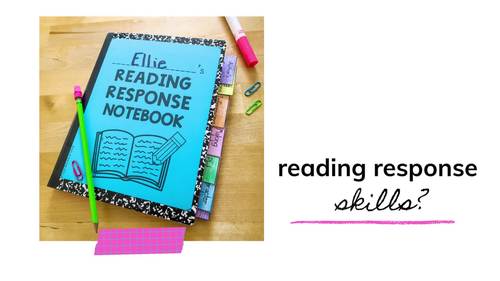 ;
What educators are saying
One of my favorite reading journal resources. It is very aligned with my TEKS and so easy for my students to use and understand.
This is great! It is such a simple, low prep resource for students to have in their pocket when needed. THANK YOU!
Also included in
The reading comprehension bundle that teachers' dreams are made of! This reading strategies bundle has everything you need to successfully introduce all the essential reading skills that your elementary students need to keep in their strategies toolbox.  This reading bundle includes anchor charts, p

Price $32.38

Original Price $42.97

Save $10.59
Description
Reading response notebooks are a guaranteed way to help your students thrive in reading this year. Reading response notebooks are your golden ticket to helping your students bound up the reading growth charts! Reader's response journaling is an extremely powerful tool in reading instruction. Reader's response notebooks allow students to show off their skills and thinking through their texts. Reader's response notebooks also allow teachers to discuss and evaluate our kiddo's level of understanding in reading skills to reteach, push, and ultimately help them make massive gains in reading.
***3 Reading Response Notebook Options are Included!! A worksheet/ Binder sized reading response notebook, a composition notebook sized reading response notebook and a digital Google Classroom ready reading response notebook! ***
This epic reading response notebook tool includes of reading graphic organizers, mini reading anchor charts, reading response journal prompts and more!
Author's Purpose
Making Connections
Inferencing
Character Traits
Plot
Making Predictions
Theme
Main Idea
Visualizing
Summarizing
Expanding Vocabulary
An in this readers notebook resource! This will allow you to customize the goals and targets that students are working towards as they read and respond.
A mini anchor chart on each reading skill
A graphic organizer for each reading skill
Reading response journal prompts for each reading skill
Easily help your students stay organized as they learn reading skills.
Understand and grow in targeted reading skills
Differentiate students reading needs with ease
Help your students increase their vocabulary and craft strong reading responses
Want to learn more about helping students writer strong reading response journal entries? CLICK HERE to read my blog post: The 3 Top Tips for Teaching Strong Reader's Response Entries
Report this resource to TPT
Standards
to see state-specific standards (only available in the US).
Ask and answer such questions as who, what, where, when, why, and how to demonstrate understanding of key details in a text.
Describe how characters in a story respond to major events and challenges.
Describe the overall structure of a story, including describing how the beginning introduces the story and the ending concludes the action.
Ask and answer questions to demonstrate understanding of a text, referring explicitly to the text as the basis for the answers.
Describe characters in a story (e.g., their traits, motivations, or feelings) and explain how their actions contribute to the sequence of events.