Reading Response Menus Digital and Printable *EDITABLE*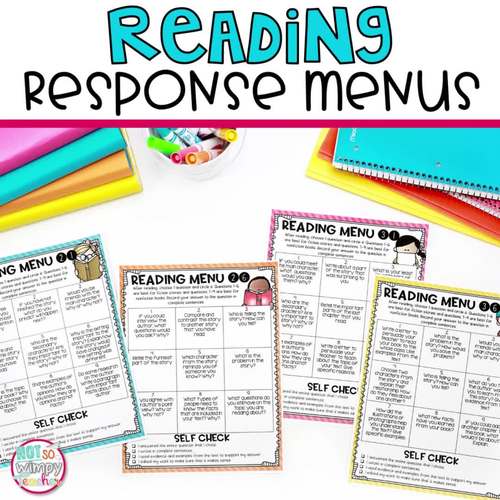 ;
What educators are saying
This are a great resource for having your readers connect to what they are reading and the fact that you can edit them is great!
I am using this for homework this year. I love the variety of responses so I can always change things up for my students.
Description
"Great resource to hold students accountable by writing about what they are reading and using evidence from the text. My students enjoy these because they feel like they have a choice and it's not just a prompt for everyone. Thank you!" - Jennifer B.
Every week, a teacher must grapple with an ancient mystery: "I love that my students are reading independently! But, how do I make sure they understand what they're reading? How do I hold them accountable?"
Wonder no more! These Reading Response Menus will reveal all. Each question in the menu was designed to:
Encourage students to use those higher-order thinking skills and dig deep into the text for answers—increasing their comprehension and understanding.
Help them practice writing about text and using text evidence—which also prepares them for standardized testing.
Allow you to easily assess their comprehension skills—so you can identify areas for improvement.
Best of all? Students really love this activity (see the reviews!) because they can choose from the menu—which lets them pick the questions they feel most confident about answering.
Teachers love them because they can use the printable version in class or they can share these engaging reading menus digitally, as you will find both digital and printable versions are included in this resource.
You can use these menus for independent reading and more! Include them in a writing center, a book/literature club, or a homework assignment. Students can even use these menus during class read-alouds.
Differentiation
Menus provide easy differentiation. Students can choose books on their level. Teachers can limit menu choices to either lower- or higher-order questions based on student needs.
How It Works
Each week, students read their own book. Next, they choose one question from the weekly menu, answer it, and use the self-checklist to edit their work. There's a simple rubric for you to score the responses based on completion, sentence quality, text evidence, thoughtfulness, and grammar/spelling. Students can record their scores on a data graph and make goals for future responses.
What's Inside
★ This product includes 36 printable menus (one for every week of the school year!), and each menu contains 9 questions for students to choose from. Six of those questions are geared toward fiction. The other three are geared toward nonfiction and/or information texts.
★ You'll also find a digital version that can be shared with students while distance learning. The menus are colorful and include interactive tracking sheets for students to stay on top of their work.
★ I've also included an editable PowerPoint file so you can make additional menus that meet student or class needs! You'll love how customizable this resource is! 
Also included:
Rationale for using menus
Suggested uses for menus
Teaching tips
Differentiation ideas
Scoring rubrics
Student data graph (for tracking their progress)
Writing paper
Writing paper (with rubric on the paper)
36 question menus with a self-check at the end
Please check out the preview to get a better idea of what is included and how it can be used in your classroom.
*****************************
Other ELA resources:
Vocabulary Word Builders FULL YEAR Bundle
Personal Narrative Writing Unit
Report this resource to TPT