Reading Response Mini Lessons Google Slides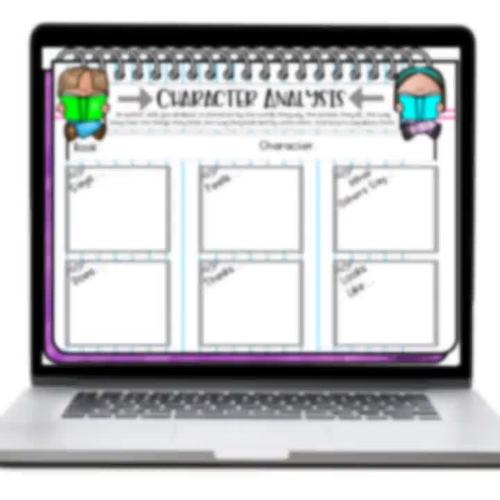 ;
PDF

Google Apps™
Includes Google Apps™
The Teacher-Author indicated this resource includes assets from Google Workspace (e.g. docs, slides, etc.).
What educators are saying
Excellent resource! Very easy to use, ready to go and the student's LOVED it. I highly recommend this product.
Very easy to use with distance learners. Looking forward to using resource in years to come even when not distance learning with students.
Description
This is a bundle of Digital Google Slides for teaching Characters, Setting, Events, Vocabulary and Grammar. Students love our fun and engaging slides and students love going digital!
On each slide, students are provided with quick lesson notes, directions and graphic organizers. Students are taught a lesson and then apply their learning to their Independent Reading Books. This activity is PERFECT for the Reading Workshop Class! Mini-Lessons are PERFECT for teaching the standards!
This Digital Google Slides Bundle includes:
Characters, Settings & Events

Character Analysis
Character Change
Character Motivation
Character Traits
Making Inferences
Parts of Plot
Setting
Story Elements
Summarizing
Theme
Types of Characters
Types of Conflict
Vocabulary

Context Clues
Idioms
Prefixes & Suffixes
Similes & Metaphor
Synonyms & Antonyms
Grammar

Capitalization
Nouns
Punctuating Dialogue
Subject & Predicates
Types of Sentences
Verbs
This resource is for you if you:
★ Want to use digital resources in your class
★ Want to teach your students 21st Century Skills
★ Want engaged students who are excited to learn
★ Want to save time
★ Want to go paperless...no copies :)
This resource is NOT for you if:
★ You plan not to teach your students computer skills
★ You don't want your students to be Digitally Literate
★ You love running copies
★ You don't want engaged students who enjoy learning in a new way
Frequently Asked Questions:
★ I want to go digital, but I don't know where to start?
Check out our blog post on how to upload digital products to Google.
In this resource, we also include steps on how to upload a digital resource in 3 formats( written steps, steps in pictures, and a video tutorial) to meet your needs.
Easy-peasy! We promise! This is the easiest way to get started going digital.
★ I want to go digital, but my class is not 1:1. What can I do?
Guess what? We are not 1:1 either! We do not let that stop us from providing our students with a wonderful digital learning experience. We need our students to be computer savvy and ready for the state test.
At first, we only had 4 to 5 computers in the corner of our rooms, and that was okay. We used our digital task cards as one of our rotations and it worked out fine. Then we got tablets and we were 1:2, so we taught half our class and the other half was on the tablets. Then we switch. Genius and life-changing for us as teachers. We would never want to go back to life before digital. Digital is the way of the future.
If you have any questions, email us at: therigorousowl@yahoo.com
★★★★★★★★★★★★★★★★★★★★★★★★★★★★★★★★★★★★★★★★★★★★★★★★
Need other resources for teaching Characters, Settings, Events, Vocabulary and Grammar?
4th Grade Language and Grammar BUNDLE
5th Grade Grammar and Language BUNDLE
Characters, Settings and Events BUNDLE
Need more Digital Resources?
Numbers and Base Ten Digital Task Cards
Fractions and Decimals Digital Task Cards
Grammar and Language Digital Task Cards
BE SURE TO FOLLOW US BY CLICKING THE GREEN STAR ABOVE TO BE NOTIFIED WHEN WE POST A NEW PRODUCT! ALL OF OUR NEW PRODUCTS ARE 50% OFF FOR THE FIRST 48 HOURS!!!!
BE SURE TO LEAVE FEEDBACK TO RECEIVE TPT CREDIT TOWARDS YOUR NEXT PURCHASE!
Don't miss out on updates, freebies, and tons of fun!
This pack is intended for ONE CLASSROOM TEACHER to use. If you would like to share with your colleagues, please purchase an additional license. Thank you for respecting our hard work!
All rights reserved by the author.
Permission to copy for single classroom use only.
Electronic distribution limited to single classroom use only. Not for public display.
#TpTDigital
Answer Key
Does not apply
Teaching Duration
Lifelong tool
Report this resource to TPT
Standards
to see state-specific standards (only available in the US).
Ask and answer questions to demonstrate understanding of a text, referring explicitly to the text as the basis for the answers.
Recount stories, including fables, folktales, and myths from diverse cultures; determine the central message, lesson, or moral and explain how it is conveyed through key details in the text.
Describe characters in a story (e.g., their traits, motivations, or feelings) and explain how their actions contribute to the sequence of events.
Refer to details and examples in a text when explaining what the text says explicitly and when drawing inferences from the text.
Determine a theme of a story, drama, or poem from details in the text; summarize the text.