Reading Skills for Reading Comprehension - 3rd Grade Lesson Bundle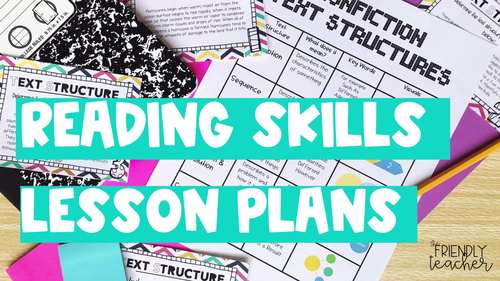 ;
What educators are saying
These lessons are a life saver and PERFECT for supplementing the curriculum we have and providing extra practice. I am so glad I got the set.
I LOVE this! It makes planning my lessons so easy! I feel like everything is covered and my students were able to learn well.
Products in this Bundle (17)
showing 1-5 of 17 products
Bonus
Scope and Sequence for Reading and Writing
Description
Do you want your students to fully comprehend all of the reading skills that are taught for reading comprehension? This 17 unit bundle teaches each reading skill completely through engaging and rigorous lesson plans. This bundle includes 17 full-week units with whole group and small group lesson plans. All the activities are provided for introduction lessons, group projects, partner projects, assessments, and more.
Here's what you'll get:
17 Full-Week Units that focus on one reading comprehension skill at a time
Full lesson plans with each unit
All activities needed for the lesson plans
Whole group and small group lessons & activities
Reading comprehension assessments
Engaging practice activities
Anchor Charts
& so much more
Why will these activities help your students grow and make the teacher happy?
- I saw that my students needed more engagement and relation to their real life in order to fully understand the skills, so I created these lessons to keep kids excited and involved the whole time.
- We start with a real life lesson, then practice as a whole group, work in a small group, work in partners, and finally work alone. We start with support on the skill and slowly take it away to really push the kiddos.
The lessons keep kids thinking the entire time and push them to reach their potential.
- These lessons just need to be printed, copied, and they are ready to go! Most activities require little work beforehand for the teacher which makes a teachers busy life easier!

What is included in the bundle?
Each Skill Includes
Introduction lesson that is real life applicable, memorable, and engaging
A whole group practice lesson
Small group project
Partner practice project
Individual assignments
Daily introduction and closing lesson
Daily small group lesson plan and activity
Assessment
Skills Included
Theme
Plot
Point of View
Main Idea
Inferencing
Character Traits
Text Evidence
Summarizing
Compare and Contrast Context Clues
Literal vs. Nonliteral Language
Author's Purpose
Cause & Effect
Text Structure
Text Illustrations
Poetry
Text Features

Head to the link here to get a list of all of the books that are used in these units.
These can be replaced and many of them are on EPIC for free too!
TEACHERS LIKE YOU SAID…
⭐️⭐️⭐️⭐️⭐️ Roletter says, "What a fantastic resource! It helped make my planning for reading groups a lot easier and make my literacy block more engaging for my students. Thank you! "
⭐️⭐️⭐️⭐️⭐️ Kara says, "I was so excited to see this when it came out! I just moved from kindergarten to third grade this past school year and didn't know where to start. I looked at my basal reading and honestly felt so overwhelmed and felt it didn't hit the standards. and then I found this! This is such an amazing resource. I love that I can actually say that I feel confident that the kids understood what was being taught and that it was actually revisited time and again throughout the year! Thank you!!!!
⭐️⭐️⭐️⭐️⭐️ Megan says, ""I cannot say enough about this product. It is AMAZING!! We use the Wonders reading series and these products have helped us bring life to skills and lessons. I highly recommend this resource!"
___________________________________
You may also like…
→Writing Lesson Plans with Mentor Texts
→ Grammar Lesson Plans for 3rd Grade
___________________________________
Much Love,
The Friendly Teacher
By clicking this link you can follow along with The Friendly Teacher! You will get to know when a new product is posted, which is 50% off for the first 24 hours!
Copyright © The Friendly Teacher
Permission to copy for single classroom use only.
Please purchase additional licenses if you intend to share this product.
Report this resource to TPT
Standards
to see state-specific standards (only available in the US).
Ask and answer questions to demonstrate understanding of a text, referring explicitly to the text as the basis for the answers.
Recount stories, including fables, folktales, and myths from diverse cultures; determine the central message, lesson, or moral and explain how it is conveyed through key details in the text.
Describe characters in a story (e.g., their traits, motivations, or feelings) and explain how their actions contribute to the sequence of events.
Determine the meaning of words and phrases as they are used in a text, distinguishing literal from nonliteral language.
Refer to parts of stories, dramas, and poems when writing or speaking about a text, using terms such as chapter, scene, and stanza; describe how each successive part builds on earlier sections.