Reading Strategies Posters Anchor Chart BUNDLE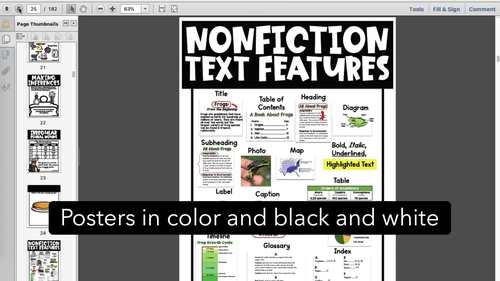 ;
What educators are saying
There are no words. I LOVE THIS RESOURCE!! We refer to the posters almost daily! Student friendly. Not overloaded with language. Perfect to introduce and support student learning!
I absolutely love these. Worth every penny. I display it one my Smart board while doing a lesson and then I make a small copy for each student to put in their notebooks to serve as a reminder.
Products in this Bundle (30)
showing 1-5 of 30 products
Description
This time AND money-saving bundle includes ALL of my Reading Workshop Anchor Charts. Each Reading Anchor Chart includes an individual student page and larger pieces to create a poster-sized anchor chart that you can fill in with students (helping them own that learning by creating it together!). Think of all the TIME you'll save not having to make your own! If you prefer to create yours with your class, just glue down the title/decorative/heading pieces ahead of time and complete the writing portions with your students. I've also included black and white student size versions (which are perfect for students to color).
These are great to use as a kickstarter to introducing a new concept. They are also perfect for use in classrooms with ELLs, as they provide the necessary visuals & concise teaching points to reinforce content and academic vocabulary for multiple grade levels, and the individual page can be used as a reference at their desk or in a pull-out situation.
You will receive: Each individual file and 1 EDITABLE Powerpoint version of all of the individual pages as well (this is EXCLUSIVE to the bundle, none of the individually files are editable). This means you can add/delete/edit the text content (the title and graphics are not editable in order to keep the graphics secure).
Included:
Adjectives
Affixes (Prefixes and Suffixes)
Annotating
Cause and Effect
Character Traits
Close Reading
Compare and Contrast
Compound Words
Connections
Context Clues
Fact and Opinion
Fiction and Nonfiction
Figurative Language
Fluency
Homophones
Irregular Plural Nouns
Making Inferences
Main Idea
Nonfiction Text Features
Nouns
Plot
Point of View
Predictions
Questions
Reading Expectations
Retelling
Sequencing
Story Elements
Synonyms
Verbs
Visualizing
***You can find the coordinating WRITING Anchor Chart BUNDLE here.
© Teaching in the Tongass
Report this resource to TPT
Standards
to see state-specific standards (only available in the US).
Ask and answer such questions as who, what, where, when, why, and how to demonstrate understanding of key details in a text.
Describe the overall structure of a story, including describing how the beginning introduces the story and the ending concludes the action.
Acknowledge differences in the points of view of characters, including by speaking in a different voice for each character when reading dialogue aloud.
Compare and contrast two or more versions of the same story (e.g., Cinderella stories) by different authors or from different cultures.
Determine the meaning of words and phrases as they are used in a text, distinguishing literal from nonliteral language.