Reading Units and Centers MEGA BUNDLE THIRD GRADE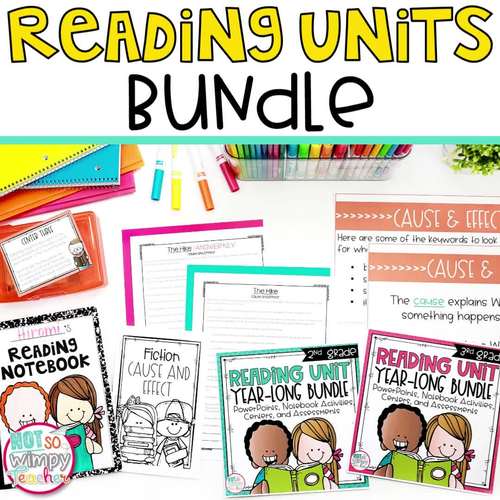 ;
What educators are saying
I just started using this with my class. The lessons are great and easy to use. Thank you for this wonderful resource.
I LOVE this product! It's thorough and has saved me countless hours digging and looking for ideas when I'm teaching various reading skills. Thanks for another awesome product!
Products in this Bundle (16)
showing 1-5 of 16 products
Description
Another fantastic resource! I love all the components to really break down each skill. The power points are fantastic for the mini-lesson. I love the interactive notebook activities to reinforce the mini-lesson, as well as the assessments/independent work. The centers have become a staple during stations. Thank you so much. - Courtney's Classroom
Wow, this product saves me SO much time!  It simplifies planning for me and gives a predictable pattern for the students when it comes to center work.  Thank you! - Kara G. 
Our Third Grade Reading Units and Centers are designed to help your students master all of the third grade standards-based reading skills in a fun and engaging way. This MEGA BUNDLE includes a full year of reading activities. Each one of these 16 units (32 weeks) includes a PowerPoint mini lesson, 2 interactive notebook activities, 5 centers (including one reading response activity), and 3 reading passages.
Your students will get essential practice of important reading comprehension skills like main idea, central message, point of view, and cause and effect through focused practice on one skill at a time. These reading units included fiction and nonfiction passages and can be used as a supplement to any reading curriculum.
We've made it simple to incorporate these low-prep lessons into your reading instruction. Each unit focuses on just one skill or standard at a time, which helps students master skills. Student friendly directions enable students to work independently. The same centers are used in every unit making it easy to establish a routine.  Interactive notebook activities and reading passages make assessment easy.
This is a money-saving bundle. It includes all of the individual third grade lessons. If purchased individually, these resources would cost $96. Buying the bundle means you are getting 3.5 units for free! 
What's Included:
Teacher Directions & Tips
16 PowerPoint Mini-Lessons
32 Interactive Notebook Activities
80 Centers (text, task cards, matching, color coding,  reading response)
48 Passages/Assessments (with answer keys)
Teacher Binder Cover
Student Notebook Cover
BONUS - a set of RACE reading response posters
Topics and Skills Covered
❤️❤️ Why You'll Love it: ❤️❤️
Easy to prep and use materials save valuable time
Interactive lessons are fun and engaging and hold students interest
Each unit focuses on one standard-based reading skill at a time
Provides excellent practice and preparation for standardized tests
How to Use it in the Classroom:
There are so many ways to use this resource in the classroom.
These units are perfect to use during reading workshop.
The units do not correlate with any one reading curriculum. They are designed to supplement any materials or routines that you already have in place. 
You can use any books (or magazines) you already have in your classroom library or school library.
Each unit is intended to be used over a two-week time frame, but this can easily be adjusted to meet your needs.
The PowerPoint Mini-Lesson
The PowerPoint slide shows provide an introduction to the skill and are great for whole group instruction. 
The interactive slides encourage student participation and discussion. 
Interactive Notebook Activities
There are two interactive notebook activities per unit. The activities have very simple cuts so precious class time is not wasted! 
You could use these as a whole group activity (one each week) or in small groups at the teacher table or centers. 
The first activity is designed to reference and review the PowerPoint mini-lesson. The second activity however is more challenging and asks students to demonstrate their new skills. 
Students will need a notebook (spiral or composition), scissors, and glue.
BONUS: If you also use my Grammar Units, one notebook will easily fit all of the grammar and reading notebook activities. I included a cover and dividers for this.
Centers
Each of the 16 units includes five centers giving you lots of options to keep students occupied while you meet with small groups
Each unit has one one student recording book that takes takes two sheets of paper. 
Each unit includes the following centers: text, task cards, matching, color-coding and reading response. 
To complete the reading response activity students will need access to fiction and nonfiction texts. They will read two different books/articles/passages and respond to a question related to the unit skill. Students can use read-alouds, books from your classroom or school library, basal readers, or books you have pre-selected.
The centers include student-friendly directions and are clear enough for students to complete independently while still providing adequate practice of the reading skill.
I highly recommend putting all five centers out for each skill and allowing your students to complete the center activities in any order that they wish.
Centers take 4-6 sheets of paper per unit. Depending on the size of your groups, you might want to print more than one copy of each center.
There are color and blackline versions included. Labels for the centers are also included.
Use cardstock and laminate center sheets for durability.
Assessments/Passages
Each of the 16 units includes THREE different reading passages with three questions on each passage. The questions focus specifically on the unit skill. 
Use these passages as a pre-test, post-test, and/or a re-test. 
Use one or two of them in your reading groups and then use the last one as an assessment at the end of the two-week unit. 
Use the passages during a whole group lesson. Great for a reteach or review. 
Differentiation:
Group students by ability to make it easy to differentiate in small groups.
Use interactive notebooks or reading passages in small groups to provide additional support to students.
Students can use different leveled texts for reading response activities.
Interactive notebooks serve as a great reference tool during centers or when working independently on reading passages.
Assign more or less independent reading passages as needed.
FAQs
Q: How long do these reading units take?
A: Each unit is designed to be used over a two-week time period. However, you can adapt that to fit your schedule and needs. The PowerPoint mini lesson should take about 15-20 minutes each day and the centers and center activities should take between 45-60 minutes. You can see how I break down my ELA schedule . 
Q: Do you have reading units available for other grade levels?
A: Yes! We also have a second grade reading mega bundle available. 
Q: Can these reading units be used with my basal reader?
A: Yes. These reading units are designed to be used with any reading curriculum. Many teachers use them as a supplement to their basal readers. 
Q: Can this be used in place of a reading curriculum for a whole year? 
A: Yes. Many teachers tell us they use these Units and Centers as their whole year reading curriculum  It covers all the standards.  
Related Resources:
Second Grade Reading Units and Centers Mega Bundle
You might also like:
Report this resource to TPT
Standards
to see state-specific standards (only available in the US).
Ask and answer questions to demonstrate understanding of a text, referring explicitly to the text as the basis for the answers.
Recount stories, including fables, folktales, and myths from diverse cultures; determine the central message, lesson, or moral and explain how it is conveyed through key details in the text.
Describe characters in a story (e.g., their traits, motivations, or feelings) and explain how their actions contribute to the sequence of events.
Determine the meaning of words and phrases as they are used in a text, distinguishing literal from nonliteral language.
Refer to parts of stories, dramas, and poems when writing or speaking about a text, using terms such as chapter, scene, and stanza; describe how each successive part builds on earlier sections.