Reading and ELA Task Card Massive Bundle - 107 Task Card Sets!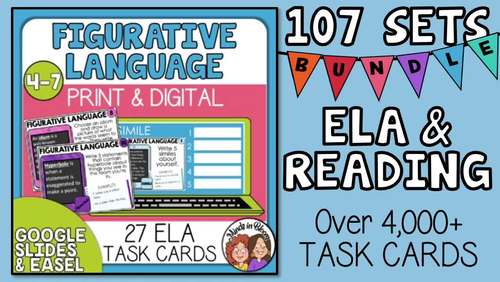 ;
Various file types

Google Apps™
1,300+ (4,000+ task cards)
Includes Google Apps™
This bundle contains one or more resources with Google apps (e.g. docs, slides, etc.).
Easel Activities Included
Some resources in this bundle include ready-to-use interactive activities that students can complete on any device. 
Easel by TPT is free to use!
Learn more
.
Easel Assessment Included
Some resources in this bundle include self-grading quizzes that students can complete on any device. 
Easel by TPT is free to use!
Learn more
.
What educators are saying
I use these task cards all the time for a variety of different activities. Thank you so much for all your hard work!
Massive time saver! Worth the money! I have bought individual sets but finally spent the money on the whole bundle. I regret nothing. These are easy to use and my students are engaged the whole time!
Products in this Bundle (109)
showing 1-5 of 109 products
Bonus
Boom Cards Access (22 Sets)
Description
This huge bundle of task cards includes reading skills and strategies, figurative language, vocabulary, sentence building and punctuation, parts of speech, affixes and roots, writing prompts, and plenty of overall ELA test prep and review.
There are 107 products in this bundle, but you will get closer to 112 sets of task cards as a few include multiple sets within a single product. Also, some sets include more than 32 cards. There are more than 4,000 task cards are included in this bundle! Most of the sets also include one or more challenge cards that can be used to extend and/or differentiate the activity. There are also student response sheets and answer keys. A few sets feature handouts or posters as well.
Most of these slides have been revised to include Digital versions with Google Slides and/or Easel Activities or Assessments.
Some sets also include:
Audio for greater differentiation
Blackline versions of the cards for printing on colored paper.
Please see individual listings for more details.
~~~~~~~~~~~~~~~~~~~~~~~~~~~~~~~~~~~~~~~~~~~~~~~~~~~~~~~
Also includes Digital Boom Learning Access Links for 22 of the task card sets! Boom is an easy and fun way to use task cards digitally!
More About Boom Learning℠
With your Teachers Pay Teachers purchase, users new to Boom Learning get a three-month free trial of student progress reporting for up to 150 students. Your trial includes the ability to make up to 5 free DIY decks. You may upgrade or cancel at any time. Boom Cards play on modern browsers (released in the last three years) on interactive whiteboards, computers and tablets. Boom Cards apps are also available. Not sure if your browser is modern enough? Try a free Boom Cards deck first. When you redeem your purchase, Boom Learning opens an account for you if you do not already have one. If you do not subscribe at the end of your trial, you will be able to continue using Boom Cards with the Fast Play feature. Fast Play does not track individual progress. If you do not subscribe we will delete your student records 3 months after the expiration of the trial to protect student privacy.
Terms of Use
This resource was created by Rachel Lynette for Minds in Bloom INC., all rights reserved. It may be used by the original purchaser for single class use only. Teachers may distribute this product in email, through google classroom or over the Internet to their students (and parents) as long as the site is password protected. In other words, you may distribute it to your own students but may not put it on the Internet where it could be publicly found and downloaded. If you want to share this resource with colleagues, please purchase additional licenses from TpT. Thank you for respecting these terms of use. :)
This product is happily brought to you by Rachel Lynette and Cassi Noack of Minds in Bloom
Total Pages
1,300+ (4,000+ task cards)
Report this resource to TPT