Recycling Fiberglass (Synthetic Fiber Pollution) | Video, Handout, & Worksheets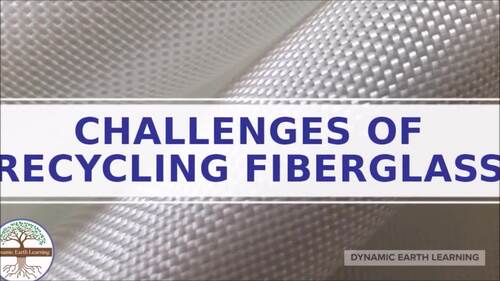 ;
PDF

Google Apps™
Includes Google Apps™
The Teacher-Author indicated this resource includes assets from Google Workspace (e.g. docs, slides, etc.).
Also included in
This environmental science resource is for teachers who want to draw attention to conservation and the environment and need to do so for several topics.This bundle includes resources for each of the following topics ocean, wildlife threats, invasive species, and agricultural impact on the environmen

Price $30.00

Original Price $43.00

Save $13.00
Description
This lesson covers the topic of fiberglass recycling and its impact on the environment. It explains that while fiberglass is technically recyclable, the recycling process is not widely available or economically viable. Fiberglass is composed of sand, silica, polyester resin, and glass fibers, and it is widely used in various industries due to its strength and durability. However, disposing of fiberglass is challenging because it does not degrade and contains pollutants from its fabrication process. The lesson explores different recycling methods, such as separating glass fibers from resin, grinding fiberglass into powdered form, recovering resin as fuel, and using thermal oxidation. It also mentions a few companies that are involved in fiberglass recycling, although the industry is still small and fragmented. Overall, fiberglass recycling remains a significant environmental challenge, and further technological advancements are needed to address this issue effectively.
In this environmental science lesson, students watch a short video, read an article, and then complete worksheets that prompt them to consider the impact of synthetic fibers such as fiberglass on the environment.
- Video mp4 file
- Handout PDF file
- Worksheets in 3 formats: Google, fillable PDF, and fully editable
- Link to blog with embedded video (in worksheet)
Teaching Duration
45 minutes
Report this resource to TPT
Standards
to see state-specific standards (only available in the US).
Apply scientific principles to design a method for monitoring and minimizing a human impact on the environment. Examples of the design process include examining human environmental impacts, assessing the kinds of solutions that are feasible, and designing and evaluating solutions that could reduce that impact. Examples of human impacts can include water usage (such as the withdrawal of water from streams and aquifers or the construction of dams and levees), land usage (such as urban development, agriculture, or the removal of wetlands), and pollution (such as of the air, water, or land).
Evaluate or refine a technological solution that reduces impacts of human activities on natural systems. Examples of data on the impacts of human activities could include the quantities and types of pollutants released, changes to biomass and species diversity, or areal changes in land surface use (such as for urban development, agriculture and livestock, or surface mining). Examples for limiting future impacts could range from local efforts (such as reducing, reusing, and recycling resources) to large-scale geoengineering design solutions (such as altering global temperatures by making large changes to the atmosphere or ocean).