Reduce Reuse Recycled: Earth Day Activities Craft - Classroom Community Building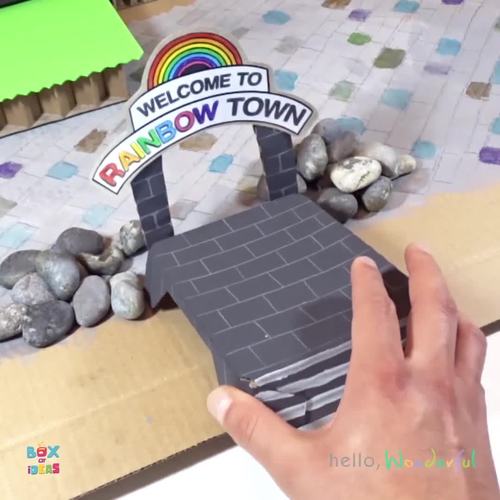 ;
What educators are saying
We do a cardboard challenge every year (for engineering purposes). This has really stepped our game up. The students were SO INTO IT! It's been truly delightful to watch them glow so much.
Also included in
This creative crafts packet includes distance learning math and literacy resources that are excellent to use with preschool kids (and beyond) at home. Numbers, Alphabet, and other useful resources designed by a fully qualified Early Childhood Teacher.Resources for young bilingual students have also

Price $32.00

Original Price $52.00

Save $20.00
Description
This fun reduce reuse recycle activity works wonders as a classroom community building activity for back to school season. The students work as a team to make a community using recycled materials, and more importantly, they come up with ideas of what makes their new community unique and special.
* Appropriate for distance learning during the coronavirus pandemic. Teachers are welcome to share this resource online with parents and students for remote learning *
►Individual Earth Day Craftivity
I've used this earth day printable as an individual craft project just to make a tower or home using the doors and windows templates. Younger grades love making a simple tower or house craft with that they can take home (this earth day craft is the perfect "junk modeling activity", as we call it in the UK).
Take this the best of your recycling activities by turning it into a team building project that brings your students ideas together:
►Classroom Community Building Activities

Each student makes one or more community buildings of their choice so they all contribute to make one community, as a group. Depending on the size of your class, you can build a big recycling city or split into teams and make a smaller eco-friendly town or eco-conscious village.

Print the community signs for the buildings (included in this resource) and put them in a bowl so each student gets assigned a random community building.

As part of the community creating process, the class (or teams) can have a group discussion about how the community is comprised and what its characteristics are.  What makes their community unique?

The sky is the limit; you can make this as simple or as complicated as necessary.
Below are some thought starters to get the conversation going (these are included in the product). You can ask your students what other questions can be asked or issues that need to be addressed when building a town from scratch. 
There are simple questions for younger students and more advanced questions suitable for older students if you want to make this into a geography oriented group project.

Suitable for Preschool, Kindergarten and Elementary classrooms
What is the name of your town?
How old is the town? 
Does it have an emblem or flag? (this could be then created together)What is the town's nickname?
What is the official language(s)?
Does your town have an annual festival? If so what is it called?
What are the town's values?
Where is the town located in the world?


Suitable for higher grades in Elementary, Middle School and High School

What is the town's motto (in Latin and English)?
What is the town's tourism slogan?
What is your town doing to address climate change?
How is your town becoming more sustainable?
What recycling measures does your town have in place?
How many languages are spoken in the town? and what are they?
What is the biggest second language in the town?
Is there a mayor? How are they elected?Does the town have a government? What is its structure?
What are the town's community standards?

Is there any wildlife in/near your town?
What is the town's geographic climate?
What is the population?

Does the town have any rules/laws? are there any unique laws?
What rights do the citizens of the town have?
Does the town have any markets?
Does the town have any cultural attractions and/or museums?
Why do people like to visit this town?
Does the town have any sports teams?
Does your town have any religious buildings (church/mosque/synagogue)?
Does the town have any influences from other countries?
Does your town have any UNESCO world heritage sites?
What are the town's main issues? How are these being addressed?
_______________________________
You might like: Morning Greetings Choices Chart
_______________________________
► WHAT'S INCLUDED
ZIP file with the following:
50+ unique designs of windows and doors
20+ community buildings signs
15 road signs
Lined roads template
Instructions PDF
Simple and Advanced questions page
* Please see the preview before purchasing.
_______________________________
► Other teachers are also loving:
_______________________________
* Earn TPT credit to use on future purchases:
Go to your My Purchases page on your TpT profile.
Select 'Provide Feedback'.
Leave an honest rating with a short comment for this product.
That's it! have fun spending your TpT credit :)
_______________________________
Click here to Follow my TpT store and catch new products at a reduced price for the first 48H.
Report this resource to TPT
Standards
to see state-specific standards (only available in the US).
Write narratives to develop real or imagined experiences or events using effective technique, well-chosen details, and well-structured event sequences.
Prepare for and participate effectively in a range of conversations and collaborations with diverse partners, building on others' ideas and expressing their own clearly and persuasively.
Integrate and evaluate information presented in diverse media and formats, including visually, quantitatively, and orally.
Evaluate a speaker's point of view, reasoning, and use of evidence and rhetoric.
Demonstrate command of the conventions of standard English grammar and usage when writing or speaking.