Refugee by Alan Gratz Nonfiction Reading Comprehension Passages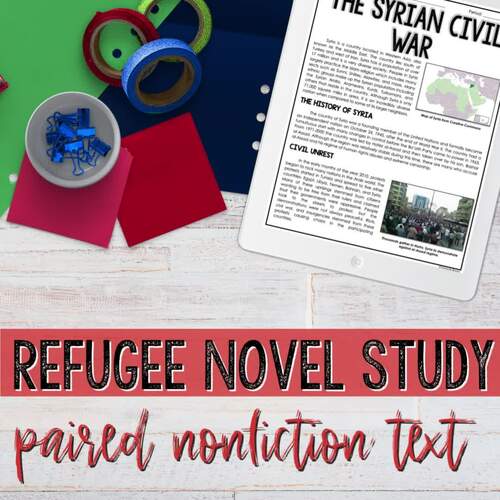 ;
Zip

Google Apps™
Includes Google Apps™
The Teacher-Author indicated this resource includes assets from Google Workspace (e.g. docs, slides, etc.).
What educators are saying
I was looking for a resource to provide basic background info to my students prior to reading Refugee and this was perfect! I used them in stations, and it worked out great!
Loved using these periodically to align with Refugee! I love how there are a mix of questions, like highlighting for evidence, multiple choice, and short answer.
Also included in
Fall in love with teaching your Refugee Novel Study with this comprehensive, standards-aligned unit, guaranteed to help you review and incorporate a variety of literary skills. With this Refugee Novel Study Unit Bundle, you'll receive ready-to-use novel activities that will guide your students throu

Price $16.99

Original Price $23.20

Save $6.21
Description
Are you teaching Refugee by Alan Gratz and looking for an opportunity to build background knowledge and strengthen real-world connections? Check out my Refugee Nonfiction Reading Comprehension Passages for novel-based informational text passages with standards-aligned comprehension checks.
This paired passage set includes four nonfiction texts that provide critical background information to complement events in the novel. 
✔ Check out the preview for an in-depth look at this resource!
►  Why Pair Fiction and Nonfiction?
Build critical background knowledge for ELLs & Tier II Students
Bridge the gap between fiction & nonfiction
Expose students to a wide variety of literature
Build vocabulary
► What's Included?
4 High-Interest Nonfiction Reading Comprehension Passages
1000-1200 Lexile Level
700-1000 Words Each
CCSS-Aligned
Audio Files of Each Passage
Print and Digital Versions
► Nonfiction Passages Include:
The Refugee Crisis
Fidel Castro & Cuba
World War II
The Syrian Civil War
You can use these Refugee Paired Texts in a variety of ways: 
- Use as a pre-reading activity to set the scene,
- Spread out throughout the novel to spiral nonfiction standards,
- Incorporate as station activities
✎ For extra teaching ideas, click here to read my full blog post on using Refugee in your classroom!
___________________________________
TEACHERS LIKE YOU SAID…
⭐️⭐️⭐️⭐️⭐️ That New Teacher said, "Such a robust resource! The articles are well selected and I love the different options for passage structure. There were so many high quality texts and reflections to choose from. Thank you for enhancing our novel study with non-fiction!"
⭐️⭐️⭐️⭐️⭐️ Heather said, "This resource was excellent and helped give background and context to the novel. The articles had great layout and information without being overwhelming or too heavy. The worksheets asked excellent questions that made students think. Thank you so much!"
⭐️⭐️⭐️⭐️⭐️ Jennifer said, "I would give this more than 5 stars if I could! It had everything I needed to set up an engaging unit with my students and saved me so much planning time!"
___________________________________
Supports Common Core Standards (CCSS):
RI.5.1, RI.5.2, RI.5.3, RI.5.4, RI.5.6, RI.6.8, RI.5.10
RI.6.1, RI.6.2, RI.6.3, RI.6.4, RI.6.6, RI.6.7, RI.6.8, RI.6.10
RI.7.1, RI.7.2, RI.7.3, RI.7.4, RI.7.5, RI.7.6, RI.7.10
RI.8.1, RI.8.2, RI.8.3, RI.8.6, RI.8.10
___________________________________
► You might also like these other Refugee related resources:
OR, ⭐️ Bundle & Save for a 30% Discount ⭐️
Teach this novel without having to write a single lesson! Click here to grab my full unit for Refugee and receive a discount on your purchase. Get your planning time back and focus on what you love most - teaching!
Have a question?
Please check out the Q & A section or email me at info@heynatayle.com. I'll get back to you within 24 hours.
✔️ Follow me to be notified when I've posted new products. 
✔️ Subscribe to my NEWSLETTER for tips, ideas, and activities that make teaching middle school ELA feel engaging and purposeful.
Thanks so much,
Natayle Brown
___________________________________
Copyright © Hey Natayle.
Permission to copy for single classroom use only.
Please purchase additional licenses if you intend to share this product.
Report this resource to TPT
Standards
to see state-specific standards (only available in the US).
Quote accurately from a text when explaining what the text says explicitly and when drawing inferences from the text.
Determine two or more main ideas of a text and explain how they are supported by key details; summarize the text.
Explain the relationships or interactions between two or more individuals, events, ideas, or concepts in a historical, scientific, or technical text based on specific information in the text.
Determine the meaning of general academic and domain-specific words and phrases in a text relevant to a grade 5 topic or subject area.
Compare and contrast the overall structure (e.g., chronology, comparison, cause/effect, problem/solution) of events, ideas, concepts, or information in two or more texts.