Refugee by Alan Gratz Novel Study Unit Bundle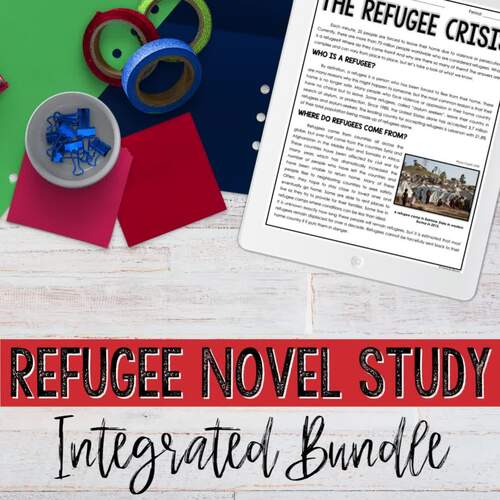 ;
Zip

Google Apps™
Includes Google Apps™
This bundle contains one or more resources with Google apps (e.g. docs, slides, etc.).
What educators are saying
Students and Staff member obsessed! This is such an organized and easy to use resource and my 7/8 class was so engaged with the content! Will be using this with all my future intermediates
My students really love this book so far, and having so many options to work with them on background knowledge as well as comprehension questions and discussion questions has been very beneficial.
Products in this Bundle (6)
showing 1-5 of 6 products
Description
Fall in love with teaching your Refugee Novel Study with this comprehensive, standards-aligned unit, guaranteed to help you review and incorporate a variety of literary skills. With this Refugee Novel Study Unit Bundle, you'll receive ready-to-use novel activities that will guide your students through the book like never before. 
This resource is perfect for a full class novel study, but can also be adapted for independent reading, literature circles, stations rotations, center activities, and more!
✔ Check out the previews for an in-depth look at each resource!
This Refugee unit will help your students sharpen their literary skills with vocabulary strategies, writing tasks, reading comprehension, informational text activities, and more. 
► What's Included? This bundle includes six resources to use with your study of Refugee:
✔  Novel Activities and Worksheets
Compare & Contrast Organizer + Writing Prompt
Literary Conflict Analysis Graphic Organizer
Understanding Theme Through Setting & Conflict Worksheets
Plot Line Organizers For Each Story
Interactive Bunting Banner Timeline
Character Analysis Foldable
✔  Nonfiction Paired Passages and Question Sets
4 High-Interest Nonfiction Reading Comprehension Passages
1000-1200 Lexile Level
700-1000 Words Each
CCSS-Aligned
Audio Files of Each Passage
Print and Digital Versions
22 Journal Writing Prompts
Printable Journal Book
Digital Google Slides Journal
Complete list of vocabulary words
Frayer-Model Vocabulary Log
Weekly Context-Clue Worksheets
Twitter Vocabulary Tweet Activity
Cumulative Word Search for Early Finishers
✔ Nonfiction Text One Pager Project
Two Project Versions: Topics Provided and Student-Selected Topics
Creating Essential Questions Guide for Research
One-Pager Checklist and Rubric
Example One-Pager
7 Novel-Based Coloring Pages
3 Different Styles 
Everything is included in print & digital versions. 
BY PURCHASING THE BUNDLE, YOU SAVE OVER 30%!
___________________________________
TEACHERS LIKE YOU SAID…
⭐️⭐️⭐️⭐️⭐️ Leah said, "These activities added a lot to our study of Refugee.  They are well-designed and engaging.  They also encouraged deeper level thinking and analysis of the text.  Great purchase!"
⭐️⭐️⭐️⭐️⭐️ Kathy said, "I have used other Refugee resources from TpT but this one was by far my favorite! The students were able to access the slides easily from a link I posted. It allowed them to work on the slides remotely AND best of all, no lost packets! I appreciated the variety of skills the students worked on throughout our novel study."
⭐️⭐️⭐️⭐️⭐️ Stuck in the Middle said, "Resources are READY TO USE!!  This is a great guide to use with the novel that covers pre-reading topics (MY FAVORITE RESOURCES OF THE PACK!), worksheets to use section by section while reading, handouts that help students connect the similar themes, events and qualities of the characters, and more!   
The nonfiction texts that cover the historical conflicts of each storyline are concise, informative, and a great resource.  I especially like the audio files that go along with them!  
Thank you for such a great, easy to use, resource!!"
___________________________________
Have a question?
Please check out the Q & A section or email me at info@heynatayle.com. I'll get back to you within 24 hours.
✔️ Follow me to be notified when I've posted new products. 
✔️ Subscribe to my NEWSLETTER for tips, ideas, and activities that make teaching middle school ELA feel engaging and purposeful.
Thanks so much,
Natayle Brown
___________________________________
Copyright © Hey Natayle.
Permission to copy for single classroom use only.
Please purchase additional licenses if you intend to share this product.
Teaching Duration
1 month
Report this resource to TPT
Standards
to see state-specific standards (only available in the US).
Cite textual evidence to support analysis of what the text says explicitly as well as inferences drawn from the text.
Describe how a particular story's or drama's plot unfolds in a series of episodes as well as how the characters respond or change as the plot moves toward a resolution.
Determine the meaning of words and phrases as they are used in a text, including figurative and connotative meanings; analyze the impact of a specific word choice on meaning and tone.
By the end of the year, read and comprehend literature, including stories, dramas, and poems, in the grades 6–8 text complexity band proficiently, with scaffolding as needed at the high end of the range.
Cite several pieces of textual evidence to support analysis of what the text says explicitly as well as inferences drawn from the text.