Renaissance & Reformation BUNDLE (World History Bundle)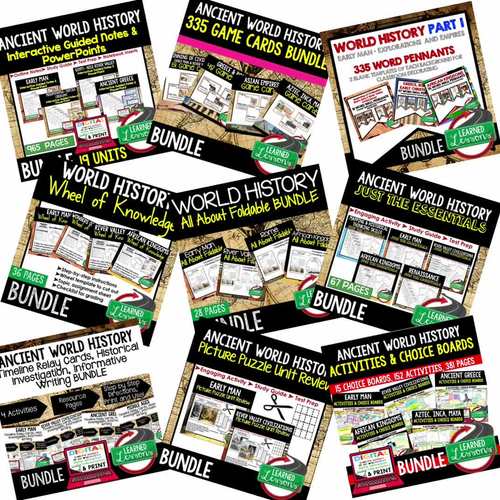 ;
Zip

Google Apps™
Includes Google Apps™
This bundle contains one or more resources with Google apps (e.g. docs, slides, etc.).
Easel Activities Included
Some resources in this bundle include ready-to-use interactive activities that students can complete on any device. 
Easel by TPT is free to use!
Learn more
.
Products in this Bundle (26)
showing 1-5 of 26 products
Bonus
Digital Links for Google and PDF to make Planning Easier
Description
World History Renaissance and Reformation BUNDLE, Digital Distance Learning & Print Also Included in World History MEGA BUNDLE
→Click Here to FOLLOW and GET Updates when NEW RESOURCES ARE ADDED
Includes links to engaging resources in Dropbox and Google Format as well as direct PDF downloads.
Sign up for and follow me on .
Renaissance and Reformation BUNDLE
Renaissance Covers The Italian Renaissance, Characteristics of the Renaissance, Italian States Milan, Venice, Florence, End of Italian Renaissance, Machiavelli, Renaissance Society, Intellectual and Artistic Renaissance, Dante, Geoffrey Chaucer, Shakespeare, Giotto, Da Vinci, Michelangelo, Raphael, Masaccios, Northern Renaissance, Renaissance Lifestyle, Renaissance Inventions, more about the Renaissance.
Reformation Covers Christian Humanism, Desiderius Erasmus, Church and Religion before Reformation, Corruption of Papacy, Absenteeism, Modern Devotion, Thomas a Kempis, Martin Luther and the Reformation, Ninety-Five Theses, Break with Catholic Church, Edict of Worms, Peasant's War, Charles V, Francis I, Pope Clement VII, the Holy Roman Empire, 1555 Peace of Augsburg, Effects of Protestant Reformation, Zwinglianism, Calvinism, Reformation in England, Henry VIII and his wives, Anabaptists, Social Impact of Reformation, Catholic Reformation, Council of Trent, and more.
Renaissance and Reformation Timeline Relays, Investigation, and Writing Activities (Paper and Google Drive Versions)
Renaissance and Reformation Vocabulary Page
Renaissance DBQ Reading Activity Google World History DBQ Reading
Click Here to FOLLOW and GET Updates when NEW RESOURCES ARE ADDED
Also, remember that when you purchase a BUNDLE, you will receive any additional items added in the future at NO COST!
Links to all MEGA BUNDLES
Other Resources to Check Out:
CIVICS PAGE
US HISTORY PAGE
GENERAL RESOURCE PAGE
ELA & WRITING PAGE
PHYSICAL SCIENCE PAGE
PHYSICAL SCIENCE RESOURCE PAGE
EARTH SCIENCE PAGE
LIFE SCIENCE PAGE
WORLD HISTORY PAGE
GEOGRAPHY PAGE
LOUISIANA HISTORY PAGE
CLIPART RESOURCE PAGE
learnedlessonstpt@gmail.com
Thank you for your support! --Learned Lessons
Learned Lessons Teaching Material
learnedlessonstpt@gmail.com
#TPTDIGITAL #TPTTECH Google, 1:1, Digital
Report this resource to TPT