Research: Famous American Nonfiction Project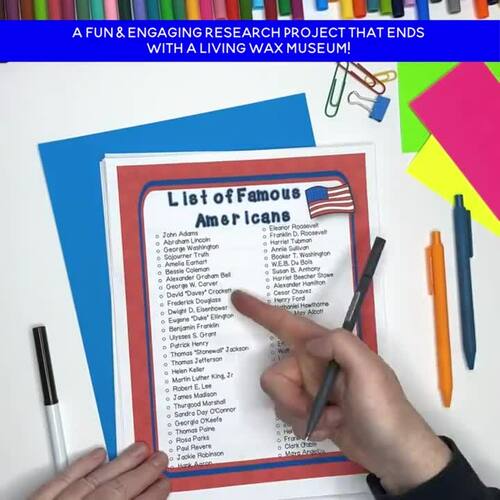 ;
What educators are saying
This was a really fun activity. I was looking for something fun and engaging. This pack certainly did not disappoint.
This helped my students keep their research organized and kept them engaged in the project! Thank you!
Description
Research famous Americans with this three-part project. Upper elementary students will love researching, writing expository essays, and giving a speech! They can even finish off their research project with a living wax museum!
The project contains 3 parts: A written report including researching notecards and making a bibliography, Creating a brochure in Publisher on the Famous American, and a Living Wax Museum where students dress as their person and give a 30-second speech in first person.
This pack allows you to implement this in your classroom easily. Included in this pack are:
-List of over 60 Famous Americans to choose from
-Letter home to parents about the project
-What to do each day to implement
-Notecards to guide students through the research project
-A easy to use/kid-friendly bibliography page
-Final Report Cover and writing paper with primary and regular lines
-Timeline of Famous American paper
-Template for what the brochure should look like and include
-Letter home to parents about Living Wax Museum including requirements
-Grading Rubric for Report
-Grading Rubric for Brochure
-Grading Rubric for Living Wax Museum
-Pictures of student brochure samples and Living Wax Museum
**NEWLY ADDED: Editable parent letters and reminders
Please email me with any questions!
Enjoy :)
Amelia
Report this resource to TPT