Restaurant Manners Lesson Functional Life Skills Special Ed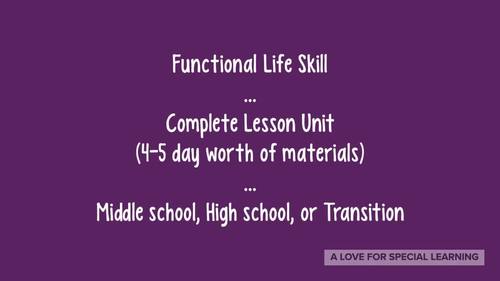 ;
Also included in
A comprehensive FUNCTIONAL LIFE SKILLS full-year curriculum for special education!Use this 1,800+ page resource of 37 functional LIFE SKILL lesson units to introduce, practice, assess, and reward students as they learn this valuable functional daily living skill.  This lesson resource goes BEYOND th

Price $224.00

Original Price $310.50

Save $86.50

It's time to explicitly teach important RESTAURANT SKILLS!  Use this comprehensive resource bundle that introduces, practices, assesses, and rewards students as they learn these valuable functional daily living skills.  This lesson resource bundle goes BEYOND the worksheets, it includes everything y

Price $41.20

Original Price $55.00

Save $13.80

It's time to explicitly teach the important LIFE SKILLS!Use this comprehensive resource of 30 LIFE SKILL lesson units to introduce, practice, assess, and reward students as they learn this valuable functional daily living skill.  This lesson resource goes BEYOND the worksheets, it includes everythin

Price $200.00

Original Price $268.50

Save $68.50
Description
Learning how to BEHAVE AT A RESTAURANT is a life long skill!  Use this comprehensive resource to introduce, practice, assess, and reward students as they learn this valuable functional skill.  This print and go lesson resource includes everything you need to teach the daily living skills to your life skills level students- appropriate restaurant behavior, manners, or etiquette when entering, eating, and exiting!
This resource includes:
Pre-Test/Post-Test of basic knowledge
1 page, 3 paragraph explanatory narrative (with read aloud audio)
1 page narrative with visuals
PowerPoint/PDF Lesson
How-to Videos
Skill practice ideas
Boom Cards for practice, review, or assessment (also printable for paper/pencil use)
5 Strategies for skill success 
Visual steps for non-verbal prompting
Game
Learning reflection worksheet
Word Search of key vocabulary
Coloring page
Practice at Home worksheet (ideal for 'homework')
Student Success Certificate as a 'formal' means of showing /rewarding skill mastery
Data Collection form

Watch an overview of a typical life skills lesson unit on IGTV!


Ideal for high school and transition age students in life skill special education courses as graphics, colors, and design are age appropriate.  
Minimal prep to execute this essential life skill! 
Follow me on Instagram and visit my Blog for more Special Education Tips and Resources!
Want exclusive freebies, notifications of sales, and new resources? JOIN MY NEWSLETTER HERE!
Report this resource to TPT