Reward Coupons with Classroom Store - Classroom Economy System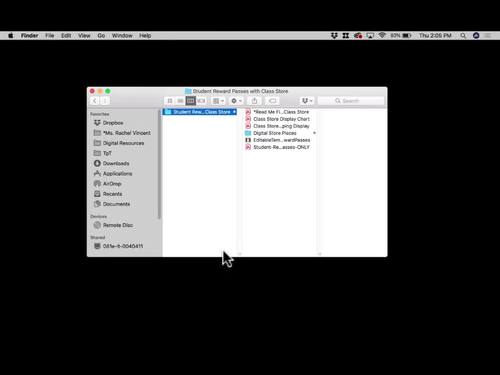 ;
Zip

Google Apps™
Includes Google Apps™
The Teacher-Author indicated this resource includes assets from Google Workspace (e.g. docs, slides, etc.).
What educators are saying
Thorough reward system. I laminated and placed into pouches on the wall - students can earn with Dojo Points.
This was a life saver for me in my first year of teaching. I used this as a reward system and its unbelievable how well it worked.
Also included in
Classroom management is more than just student behavior, but having resources to make things run smoothly is needed in every classroom.Included in this bundle:Behavior Data TrackersVoice Level ChartsWorking in Groups & PartnersRewards & Class StoreStudent of the WeekTeaching ProceduresInstru

Price $19.60

Original Price $35.00

Save $15.40
Description
Get a complete Classroom Economy System with Reward Coupons & Classroom Store!  These ready to print classroom reward coupons are the perfect thing to "sell" in your classroom store!
Students LOVE buying passes with earned points or dollars from your classroom management system!  With 48 different student reward coupon passes to use on their own or in a class store!
Here's what you'll get:
✅ 48 reward coupons (full list below) 
✅ Display coupons to use in your classroom store
✅ Pricing labels
✅ A store ledger to keep track of student earnings and spendings
✅ Now included is a DIGITAL classroom store option for your students to shop online!
✅ 2 VERSIONS of reward coupons: Color & Ink Friendly
✅ EDITABLE templates included to fit your needs
*You must have PowerPoint in order to edit the templates.
The best part of this classroom economy system is 80% of student purchases do not cost a thing! The reward coupons are the most popular items in our classroom store!  It's funny how certain coupons will trend each year.  Some years it's the shoe free and some years it's the lunch bunch!
The following reward coupons are included:
Homework Pass (No homework for 1 night)
Homework Pass (No homework for 1 subject)
Super Homework Pass (No homework for 1 week)
Gum Pass (Chew gum in class)
Computer Pass (10 minutes of free time on the computer)
iPad Pass (10 minutes of iPad free time)
Tablet Pass (10 minutes of tablet free time)
Extra Points Pass (3 extra points on an assignment)
Snack Pass (have a snack in class)
Rolly Chair Pass (use the rolly chair for the day)
Shoe Free Pass (go without shoes for the day)
Visit a Teacher Pass (visit another teacher during recess)
Extra Recess Pass (give the class extra recess)
GoNoodle Pass (choose the GoNoodle activity)
Class Dojo Avatar Pass (change your Class Dojo avatar)
Class Dojo Point Pass (give Class Dojo points to classmates)
Lunch Buddy Pass (sit with 3 friends at lunch)
Morning Work Pass (no morning work for 1 morning)
Free Draw Pass (draw when work is finished)
Caboose Pass (be the last person in the line)
Treasure Box Pass (visit the treasure/prize box)
Fancy Pencil Pass (choose a special pencil)
Fun Eraser Pass (choose a special eraser)
Candy Pass (choose a piece of candy)
Cursive Pass (may write in print instead of cursive on 1 assignment)
Test Push Back Pass (push back taking a test one day)
Flexible Seating Pass (choose where to sit for the day)
Special Supplies Pass (use special supplies for the day)
Pen Pass (use a pen for work)
Seat Swap Pass (trade seats with another student)
Stuffed Animal Pass (bring a stuffed animal to school)
Hat Pass (wear a hat in class)
Recess Pass (join another class for recess)
Omit Assignment Pas (skip one assignment)
Song Choice Pass (choose the song for the class meeting)
Show & Tell (bring an item to show & tell with the class)
Game Choice Pass (choose the game the class will play)
Special Note Pass (teacher will send a special note to parent)
Half Assignment Pass (only have to complete half the assignment)
Activity Pass (choose the activity for class meeting)
Fidget Pass (bring fidget toy to school)
Outside Lunch Pass (award class lunch outside)
Prodigy Pass (play Prodigy when work completed)
Blanket Pass (bring blanket to school)
Indoor Recess Pass (have indoor recess)
Lunch with Teacher Pass (eat lunch with the teacher)
Read Aloud Pass (choose read aloud for day or read aloud to class)
Don't need the whole classroom economy system and are just looking for the reward coupons?  Check out the !
TEACHERS LIKE YOU SAID…
⭐️⭐️⭐️⭐️⭐️ Mirna A. says, "This was such a life saver for positive behavior reinforcement! The rewards were simple enough, I did not have to spend too much money or go out of my way. However, they are super exciting and cute- my students love to buy stuffed animal passes daily! Thank you!"
⭐️⭐️⭐️⭐️⭐️ Tracy W. says, "I LOVE your coupon reward system! It has been such a huge success this year! My students save their money for the more "expensive" coupons, and many of them love the less expensive coupons. It is a great incentive. Thank you so much!
⭐️⭐️⭐️⭐️⭐️ TerrificTXTeacher says, "I am using the Class Store this year. It was easy to print and laminate and the graphics are perfect. I know my students will look forward to visiting the "store" each week! I also love how these "rewards" are very little out of pocket expense for the teacher."
⭐️⭐️⭐️⭐️⭐️ Ashley F. says, "My students love these coupons when shopping in the dojo store. It makes them feel accomplished to earn something of their own. They learn responsibility when keeping up with the cards. They are easy to print, laminate, and reuse every year."
Download the preview for a free sample of reward coupons!
___________________________________
You may also like…
→
→
→
*********************************************************************************************************************************
Customer Tips:
1. How to get TPT Credit to use on future purchases:
Go to your My Purchases page (you may need to login). Beside each purchase, you'll see a Leave a Review button. Simply click it and you will be taken to a page where you can give a quick rating and leave a comment for the product. Each time you give feedback, TPT gives you credits that you use to lower the cost of future purchases. I value your feedback greatly as it helps me determine which products are most valuable for your classroom so I can create more for you.
2. Be the first to know about my new products and freebies:
Look for the green star next to my store picture and click it to become a follower. You will receive email updates from TPT about my store.
3. Having difficulty with a file?
Visit the FAQs section, submit a help ticket, or ask a question on the Q&A tab before leaving feedback.
*********************************************************************************************************************************
© Rachel Vincent
This product is licensed for personal use in one classroom only. For use in multiple classrooms, please purchase additional licenses at a discounted price.
Report this resource to TPT