Rhyming!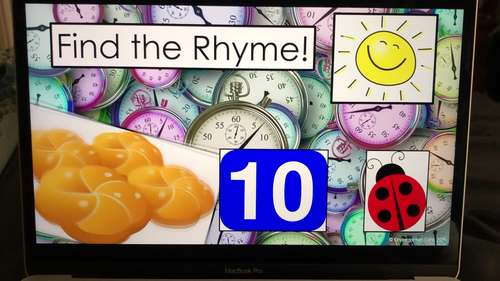 ;
Also included in
Enjoy teaching and practicing phonics skills with your students with these 18 PowerPoints! Each PowerPoint targets a different phonics skill!All of the PowerPoint can be used in Google Slides as well!Engage your students in a quick review and fun refresher of all the kindergarten phonics skills thro

Price $12.50

Original Price $18.00

Save $5.50
Description
Use this powerpoint of rhyming examples with your whole class to practice identifying and producing rhyming words! Students will first see 4 pictures and figure out which are the 2 rhyming words. Then, just click to the next slide to see if their rhyming was right! I have added fun transitions and to make it entertaining for all students! After students practice identifying rhyming examples, students will work on a rhyming lesson to produce rhyming words based on the song, "Down By the Bay".
Want to learn more about teaching rhyming and other phonics skills in Kindergarten?
13 slides- identify rhyming words

Sun→Bun
Pig→Dig
Vest→Nest
Fan→Can
Fox→Box
Ten→Hen
Sock→Clock
Bag→Tag
King→Ring
Dog→Log
Net→Jet
Mouse→House
Car→Star
11 slides- using "Down by the Bay" produce rhyming examples using two rhyming words

Pig→ Wig
Fish→Dish
Cat→Hat
Hen→Pen
Frog→Log
Bee→Tree
Mouse→House
(Lady)Bug→Mug
Fox→Box
Whale→ (polka dotted) Tail
2 slides- use as a rhyming lesson for students to create their own rhyming examples
What Skills Do These Rhyming Words and Rhyming Examples Activities Address?
Students will practice identifying rhymes
Students will practice producing rhymes 
What Literacy Standards Do These Rhyming Words and Rhyming Examples Activities Address?
RF.K.2a
Recognize and produce rhyming words.
Resources You May Also Love:
Follow me on Teachers Pay Teachers to be first to know when I post new products!
⭐️⭐️Did you know that leaving reviews can earn you FREE credits to apply to future Teachers Pay Teachers products?! Click here to get started! ⭐️⭐️
This product is licensed for personal classroom use unless multiple licenses are purchased.
Copyright Kindergarten Cafe
Report this resource to TPT
Standards
to see state-specific standards (only available in the US).
Recognize and produce rhyming words.