Rocks & Minerals Interactive Notebook - Distance learning Friendly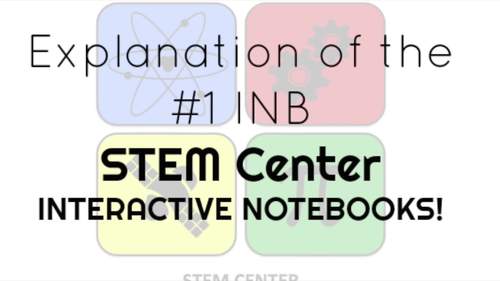 ;
Also included in
This is the Ultimate Middle School Science Interactive Notebook!Includes:Animal DiversityBody SystemsChange Over TimeChemistryClimateEarth's Changing SurfaceEcosystemsElectricityEnergy & Simple MachinesForce & MotionGenetics & HeredityLife StructureMicrobialMoonPhotosynthesisPlantsPlate

Price $85.05

Original Price $111.00

Save $25.95

This Rocks & Minerals Escape Room & Rocks & Minerals Interactive Notebook is a totally immersive package of activities that will allow your students to have fun and learn at the same time! We have developed a comprehensive, 5 tiered, Rocks & Minerals themed, Escape Room & INB. Th

Price $8.30

Original Price $10.25

Save $1.95

Rocks & Minerals Interactive Notebook 38 page Section has a lot to offer! - 32 Rocks & Minerals Flap-Fold Vocabulary words - Unlike other Interactive Notebooks, this INB has typed definitions.o This is important for students (Modifications & 504) who require written copies!- Venn Diagram

Price $5.67

Original Price $7.00

Save $1.33

After seeing the popularity of our Minerals Escape Room, we have decided to release an abbreviated version: The Minerals mini-Escape Room & Interactive Notebook. There are times where the full version of the escape rooms are too involved for the amount of time allotted. This Minerals - Mini - Es

Price $6.08

Original Price $7.50

Save $1.42
Description
Rocks & Minerals Interactive Notebook 38 page Section has a lot to offer!
- 32 Rocks & Minerals Flap-Fold Vocabulary words
- Unlike other Interactive Notebooks, this INB has typed
definitions.
o This is important for students (Modifications & 504) who require
written copies!
- Venn Diagram comparing & contrasting Minerals & Rocks
- Moh's Scale
- A reading passage describing Igneous, Sedimentary, and
Metamorphic Rocks
- Reading Passage (Rock Cycle)
- Rock Cycle Diagram
- Sketch & Cut (Intrusive vs. Extrusive Rock)
- Multiple choice questions
- BCR
- 35 Rocks & Minerals "Study Buddy" cards with an Answer Key
- BONUS – Beat the Clock Mineral Game!
* If you are sending this home as a packet, this will definitely keep the student ENGAGED!
YOU WILL WANT TO CHECK THIS OUT!:
Connect with the STEM Center©
Be sure to follow my TpT store by clicking on the Green 'Follow Me' Star next to the STEM Center © icon to receive notifications of new products and upcoming sales.
BLOG for more great activities and freebies.
Follow me on Twitter
Great info and freebies on Facebook
See all our products on Pinterest
Copyright © The STEM Center. All rights reserved by author. This product is to be used by the original downloader only. Copying for more than one teacher, classroom, department, school, or school system is prohibited. This product may not be distributed or displayed digitally for public view. Failure to comply is a copyright infringement and a violation of the Digital Millennium Copyright Act (DMCA). Clipart and elements found in this PDF are copyrighted and cannot be extracted and used outside of this file without permission or license. Intended for classroom and personal use ONLY.
Report this resource to TPT