Roll a Task: Brain Break - Animal Actions Theme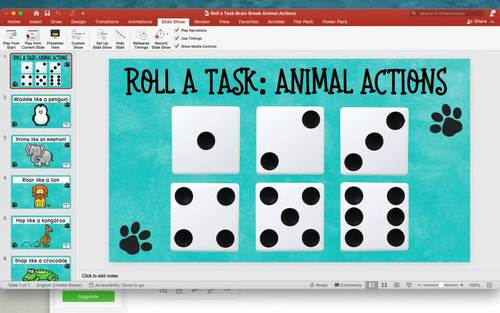 ;
Also included in
Use these fun brain breaks to get your kids up and moving throughout the school day! No more debate on which activities to do--let the dice decide! This bundle includes a brain break with physical activities, yoga poses, and playful animal actions. Get all three at once and save money!Each activity

Price $3.75

Original Price $4.50

Save $0.75
Description
Use this fun brain break to get your kids up and moving throughout the school day! No more debate on which activities to do--let the dice decide! This brain break includes six different animal actions, one for each side of a die. Let your kids play pretend, have fun and be creative with their movements!
When your students get restless, simply roll a die and then do the corresponding activity from the sheet. Print and post the PDF on the board or use the PowerPoint file that's included to display each activity after you roll the die. On the PowerPoint, when you touch a die image, it will move to the slide that displays that activity so everyone can see it! Then click "Home" to go back to the first slide and select your next activity.
Roll a 6-sided die (use a real die or a virtual die)
See which action matches that number. Do the activity together!
Repeat until your brain break time is up or you have done all of the tasks.
Directions on how to use the powerpoint, a PowerPoint file with images of the six different activities (see preview video), and the original PDF that shows which activities match each dice roll.
waddle like a penguin, stomp like an elephant, roar like a lion, hop like a kangaroo, snap like a crocodile, stretch like a giraffe
I hope you and your students enjoy this resource!
Report this resource to TPT