Rotation Slides for Literacy and Math Centres | Small Group Schedule w/ Timers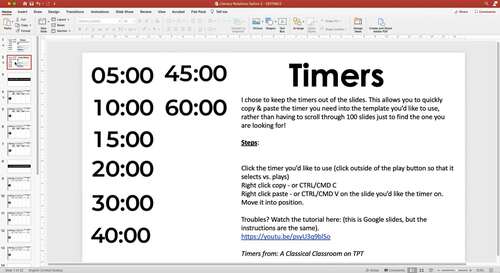 ;
What educators are saying
AMAZING RESOURCE FOR ROTATIONAL.. I CREATED ONE FOR L.A. & MATH ROTATIONS. THANK YOU FOR CREATING THIS BEAUTIFUL RESOURCE.
Wonderful resource, my students absolutely love it! Great for organizing and managing small group rotations
Also included in
Use this classroom management bundle for inside the classroom and for distance learning this year. This bundle includes morning slides, lesson slides, and rotation slides that can be used for literacy or math rotations. All products are available on Google Slides and PowerPoint (quicktime required t

Price $13.00

Original Price $15.75

Save $2.75
Description
If rotations and centres are a struggle in your classroom, this resource is for you! These editable, digital slides are perfect for encouraging independence during literacy rotations, guided reading, math rotations, daily 5 and more. The moveable timers included will ensure your students stay organized, independent and manage their time effectively.
Never hear "what am I supposed to be doing now?" AGAIN!
On SINGLE SLIDE rotation schedules (bigger charts that display the all of the rotations for the period), the timer LOOPS so you don't even have to reset it once it has beeped (POWERPOINT ONLY).
Aside from the slide titles this resource is EDITABLE. That means you can enter your own headings for the charts (daily 3/5 stations, math stations etc.,) and enter student names or group names into the columns so that they are clear on where to be!
Google Slides & PowerPoint Included!
Formats Included:
1) 100 Minute Literacy Block (Daily 3); set up in chart format that you can TYPE individual names or group names directly into. *4 rotation charts included -- 1 rotation per slide*
2) Daily 5; set up in chart format that you can TYPE individual names or group names directly into. *5 rotation charts included -- 1 rotation per slide*
3) 3 rotation, 4 rotation, and 5 rotation slides; set up into full-screen projection meaning, all of your rotations are displayed at once. No clicking through slides needed! You can type into the chart itself (e.g., group names, or you can copy and paste the coloured blocks into the chart to represent groups.) SUCH a great visual tool to show students where they are going to be going throughout the rotations.
**Same slides are included for Math with blank chart headings so you can label the stations to suit your needs!
I hope you find this as useful as my students do!
Must have PowerPoint & Quicktime (to access timers) Google Slides
_________________________________________________________________
Want to SAVE MONEY on TPT? Consider leaving feedback! For every review you leave, you earn points that you can put towards future purchases. Simply go to "My Purchases" to leave a review on products you have purchased.
Follow Me to receive updates on new products. All of my products are on always on a significant sale for the first 24 hours.
Let's Be Friends! Check out my blog for tips and a free resource library!
Report this resource to TPT